Bega peanut butter bliss balls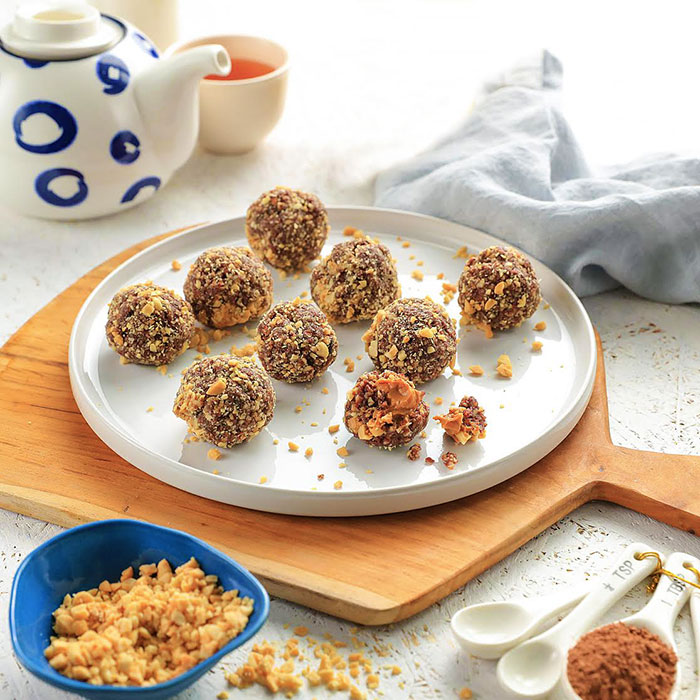 With a decadent gooey Peanut Butter centre, these bite sized Bega Peanut Butter bliss balls will make the perfect addition to your cafe or bakery display. 
---
Makes: 8 medium-large Bliss Balls | Preparation time: 20 minutes | Cooking time: 10 minutes + setting time
---
INGREDIENTS
1 cup of almonds

4 pitted medjool dates

1 tbsp raw cacao

2 tbsp coconut oil, melted

1 tbsp chia seeds

2 tbsp almond milk

1 1/2 tsp per ball of Bega Smooth or Crunchy Peanut Butter
3/4 cup chopped salted peanuts


METHOD
Combine chia seeds, dates and almond milk and set aside for 10 mins.

Add almonds to a food processor and blitz to your desired texture.

Add cacao, coconut oil, chia seed with dates (which should now be a gel-like consistency) and blend.

Spoon a ball sized amount into your hand and flatten into a thick pancake.

Scoop the Bega Peanut Butter into the middle and roll the ball around the peanut butter.

Roll in salted peanuts

Place on baking paper and cool in the fridge for about an hour..
11th July 2019