Chris' Dips homestyle range in convenient 1kg pails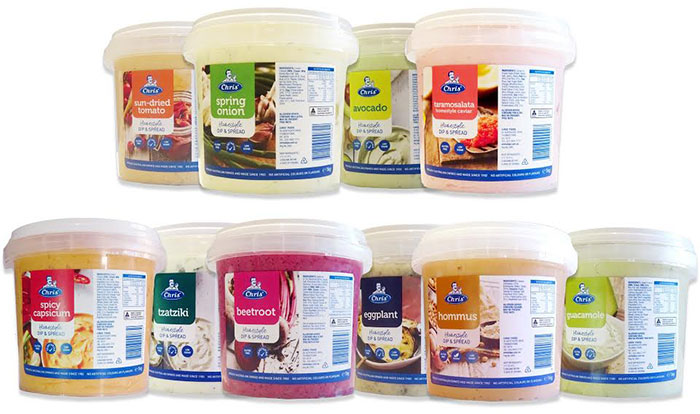 Long-established Australian family-owned business Chris' Foods is now making its popular Chris' Dips Homestyle range available to the foodservice market in a more convenient and storage-friendly 1kg pail size.
The Chris' Dips Homestyle range includes 10 flavour varieties – Hommus, Tzatziki, Eggplant, Taramasalata Caviar, Spring Onion, Spicy Capsicum, Sun Dried Tomato, Beetroot, Avocado and Guacamole. These have previously been available in 2kg pails, but marketplace feedback has indicated that many foodservice end-users prefer the 1kg size.
"Chris' Dips are as popular in foodservice as they are in retail and are always in demand across the spectrum of the market," says Chris' Foods National Food Service Manager John Bradbury. "Making the range available in the more convenient 1kg size will enable smaller outlets to take advantage of the fantastic Chris' Dips quality and flavour.
"The evolution of the foodservice market in recent years has seen an increasing proliferation of cafes, takeaways, sandwich shops and food court venues with limited food preparation areas and storage spaces. These outlets typically get deliveries from distributors several times a week and they're looking for quality products in pack sizes which don't take up too much space. Our new 1kg pail size is a perfect fit for these establishments."
The new 1kg pails are easy to open with a pull-off tab and tamper evident seal as an assurance of quality. Both the recommend retail price and product formulation of the Chris' Dips Homestyle range will remain unchanged from the former 2kg pail size – it's only the packaging which is changing. Chris' Dips Homestyle Hommus and Homestyle Tzatziki will be available in both 1kg and 2kg pails while the other eight varieties will all move across to the 1kg size.
Chris' Dips are free from artificial colours or flavours and are made with quality ingredients using authentic homestyle recipes in keeping with the business philosophy established by company founder Chris Tassios, who started the Chris' Foods business 35 years ago after emigrating from Greece. Today Chris' Foods continues to be run by the Tassios family and maintains its proud tradition of quality. 
The Chris' Dips Homestyle range is ideal for cafes, delis, takeaways, hotels, pubs, clubs, health/aged care and schools, and is increasingly in demand across members-only bulk food retailers and distributors. For more information on the Chris' Foods product range visit www.chrisfoods.com.au
10th July 2019