9 Antipasto Board Hacks You Need To Know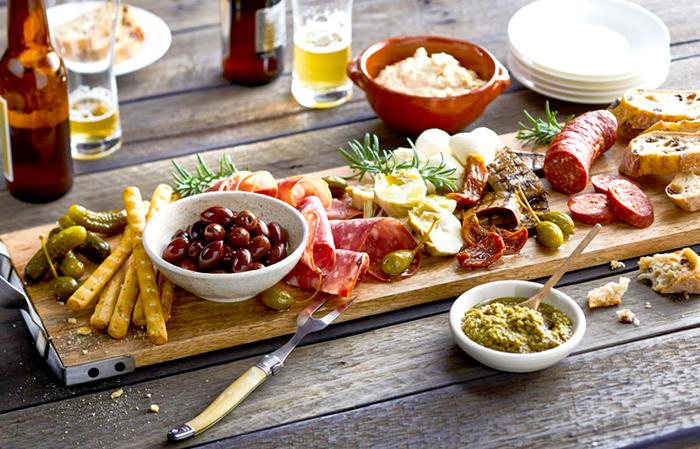 Don't Get In A Pickle! 
An antipasto platter is an excellent addition to any menu – the perfect offering for those 'in between' times or an easy pairing for customers looking to share a drink or two after work and just want something to nibble on.
If you're serving drinks you'd be crazy not to have a good mezze board on your menu. But just having it there is one thing, creating a perfect antipasto offering is another. Here are our nine hacks for the perfect antipasto board every time.
1. Start with the right base
This seems simple but we see many venues getting it wrong. Use a board, not a plate with raised edges. Make sure it is the right size – you want your board to look generous and full without being so crowded that pieces of food fall off as your guests' graze. Consider including some small bowls and plates on the board to separate different items and improve the presentation.

 
2. Add something creamy
A good platter is all about balance — soft and crunchy, mild and sharp, savoury and sweet. We like to start with something creamy and build from there. Most people start with the cheese to add creaminess. But don't overlook yoghurt and cream-based dips as alternative options.

 
3. Add something rich
You'll want something decadent and rich in flavour. For this we usually look for a prosciutto or salami – they're always crowd favourites.
4. Add something tart
It's all about balance, so a tart condiment will cut through the fat of any meats. But don't limit yourself to condiments only, consider using pickles instead. Or go for best of both worlds with our Sweet Mustard Pickle.

 
5. Add something with texture
For a well-rounded platter, don't forget the texture element. Don't let everything just be soft – add something crunchy and chewy. Of course, crackers and bread sticks add crunch, but you could also consider nuts or pretzels. If you'd also like to add a chewy texture think about dried fruit or even honeycomb.

 
6. Add something sweet
Do we really need to explain ourselves here? Sweet things are fun, and pair well with salty and fatty things so add some to your board. Quince paste is always a winner, but we also like chocolate covered fruit like figs and strawberries.

 
7. Add Something fresh
At this point, your board probably has a lot of flavour, which is great, but it is also heavy in processed foods. To avoid putting guests into a food coma offer some fresher foods like olives, sundried tomatoes, artichoke, dolmades, roasted peppers.
8. Add something to put it on!
Of course, you need something for your diners to put all these delicious things on! Consider using bread and crackers that not only carry the flavour well but also provide a different texture that adds something to the experience of each bite. Just make sure everything is either finger-friendly or easily spread with a knife.
9. Consider free-from diners
We always recommend having a good gluten free cracker available for your gluten free guests (there will always be one!). If you're serving nuts, you may want to keep them in a separate bowl too.

 
Of course, don't forget your antipasto board's best friend: wine! If you follow these nine steps, you'll have a perfect antipasto board every time. Do you think we missed something? Let us know on our Facebook page.
18th June 2019