Miele PG8166 Tank Dishwasher
Miele's tank dishwasher is the perfect choice wherever large mountains of crockery need washing in a short space of time.
The PG 8166 has a large wash cabinet that offers ample room for pots, pans and trays. With a running time from 55 seconds per load, the PG8166 has a cleaning capacity of 1188 plates per hour, combining high throughput capacity with superb efficiency.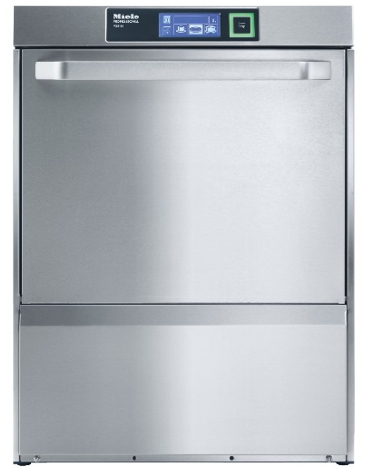 Without the need for pre-rinsing, the PG8166 has specific programmes for all load types and degrees of soiling; delicate champagne cups are cleaned just as reliably and gently as plates with dried-on food residue.
Even in the standard programmes, water, electricity and detergent is used extremely sparingly, and consumption is reduced to a bare minimum in the Eco cycle.
The high-quality design means less maintenance is required and the machine lasts longer, making it the product of choice for clients with economic considerations. With its concise and easily visible touch display, the PG8166 is easy to operate without mistakes, and an eye catcher at all times.
---

Features  

 

 

Throughput of 66 baskets or 1188 plates per hour
Shortest cycle time - 55 seconds
Selection of baskets and inserts available
Touch screen control with colour countdown indicator
Integrated tanks for detergent and integrated water softening options available
Can be built-under, perfectly integrating into a kitchen run

---

 

Specifications

 

Standard electrical connection 3N AC 380-415V 50HZ, 3 x 16amp
Convertible to various single phase options
H820/ W600/ D617mm, 69kgs
2.4L water consumption per wash cycle
250,000 service life in wash cycles 

 

 
---
---
12th September 2019