Chicken Souvlaki Kebab Sticks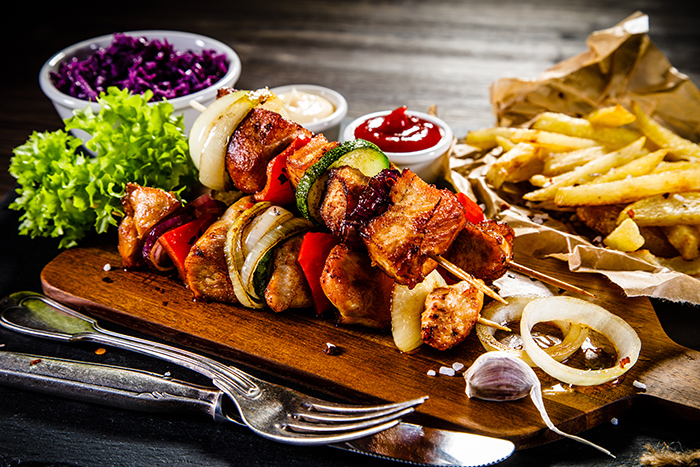 Get creating with the Antipasto Pouch Range!
Riviana Food Service, in collaboration with ALFICHEF, is delivering flavour without the fuss with a range of antipasto pouch packs direct from Italy.
From easy opening, less heat treatment on product, more product in pack and its slimline design when compared to cans, this range works to save you money through reduced risk of injury, efficient shelf storage and paying for more product – not liquid. Make the move to pouch and realise the benefits from the first tear.
Grilled Square Peppers - red and yellow peppers marinated in garlic & parsley and blended with sunflower oil. Simply tear & prepare with the Riviana Antipasto pouch range.
Chicken Souvlaki (Kebab) Sticks
---
Preparation: 50 minutes  |  Cooking: 15 minutes  |  Serves: 4 
---
Ingredients:

2 tbsp olive oil

1/4 cup soy sauce

1 garlic clove, crushed

2 tsp sugar

1kg of chicken, cubed

1 onion, quartered

1 zucchini, sliced

Salt and pepper

   

 

Method:

Soak 12 bamboo skewers in water for 30 mins prior to cooking.
Place oil, soy, Worcestershire, garlic, and sugar in a large dish. Stir until sugar dissolves.
Add chicken and toss to coat. Cover and set aside for 30 mins to allow the flavours to develop.
Thread chicken, red pepper, onion and zucchini alternately onto skewers. Preheat a grill to high.
Cook for 10-12 mins, turning, until browned on all sides and cooked through.

 
---
Get creating with more recipes from Riviana
---
11th December 2018