Don't miss your final chance to win $10k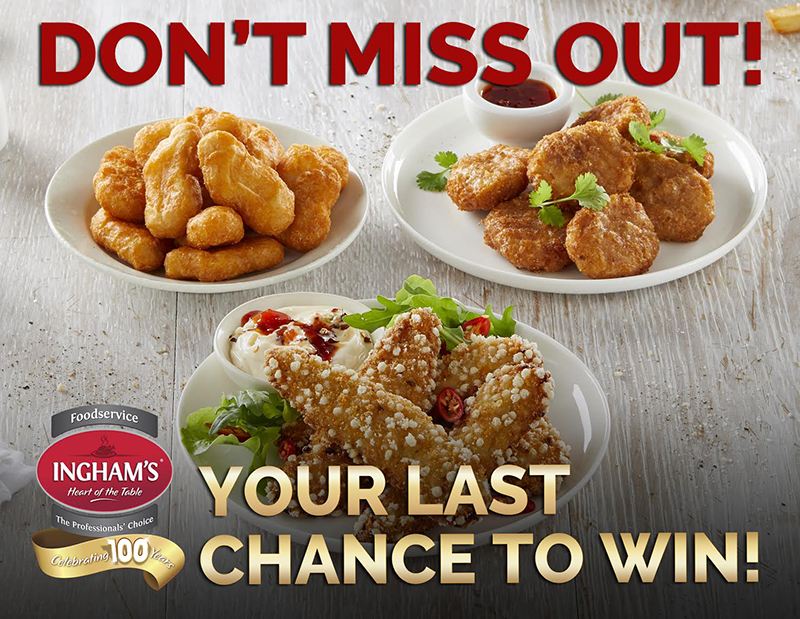 Iconic Aussie poultry products supplier Ingham's has spent this year celebrating its 100th birthday – and has marked this milestone with a comprehensive national promotional campaign.
Having long recognised the importance of the foodservice sector, Ingham's has given foodservice professionals from all over Australia the chance to share in its centennial celebration by providing three chances to win $10,000 worth of Visa Pre-Paid Gift Cards – helping you to build your business today and into the future*. 
This fantastic opportunity underscores Ingham's longstanding commitment to providing the foodservice sector with an extensive range of quality products and is also a way of saying thanks to Australia's foodservice professionals for partnering with Ingham's Foodservice and being part of its 100 year journey. 
The final draw of the promotion is open now and closes at 11.59pm AEST on December 31st. All you have to do to enter is place an order for Ingham's Foodservice Teriyaki Medallions, Tempura Breast Nuggets or Sweet Chilli Tenders, register your details online and upload your supplier's invoice as proof of purchase. 
All three products are ideal options to stock up on at this time of year, as they are firm favourites for function catering and fantastic finger food choices to serve at the many end of year parties, cocktail celebrations, receptions, anniversary dinners and festive season functions that fill up the foodservice calendar over the Christmas/New Year period. 
You can enter online at www.inghams.com.au/birthday.
Be sure to get your orders in quickly and register today for your chance to win!
*Across three draws. Open to foodservice customers only. Conditions apply, see www.inghams.com.au/foodservice/100-years/t&cs. Open to registered AU businesses. Limit 1 entry per invoice/transaction. Retain purchase invoice/s. Draws: S5, Erina Plaza, 210 Central Coast Hwy, Erina NSW 2250. There will be 3 entry periods with different purchase requirements and a separate draw conducted for each on the following dates: 5/7/18 (for entries between 1/4/18-30/6/18), 4/10/18 (for entries between 1/7/18-30/9/18) & 10/1/19 (for entries between 1/10/18-31/12/18) at 11:30am AEST/AEDT (as applicable). Prize (1 per draw): $10,000 worth of Visa Gift Cards (awarded as 10 x $1,000 gift cards). Winners published at https://inghams.com.au/foodservice/100-years from 10/7/18, 10/10/18 & 14/1/19. Promoter: Inghams Enterprises Pty Limited (ABN 20 008 447 345) of L4, 1 Julius Ave, North Ryde NSW 2113. Permits: NSW LTPS/18/22852 ACT TP18/00502 SA T18/441.   
6th December 2018