Recipe: Fried Chicken Breakfast Burger on Tip Top Potato Bun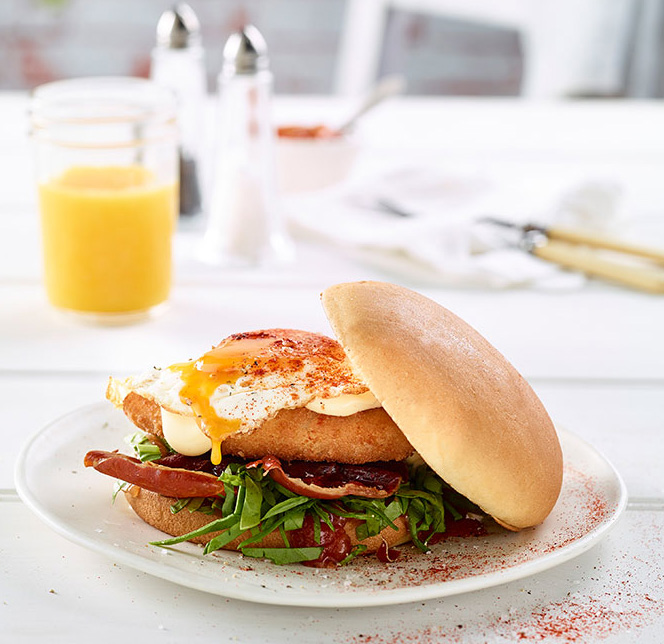 Tip Top Foodservice has expanded its Tip Top Gourmet Burger Range and launched its softest bun ever, the Tip Top Potato Bun.
Inspired by on-trend burger outlets in the US, the Tip Top Potato Bun has a light and moist crumb and is softer than traditional hamburger buns.
The Tip Top Potato Bun is versatile, see one of Tip Top's favourite breakfast recipes below… 
---
Fried Chicken Breakfast Burger
on Tip Top Potato Bun

---
Ingredients
1 Tip Top Potato Bun, inside buttered
1 chicken thigh, crumbed
1 slice prosciutto
1 egg
1 tbsp tomato relish
½ cup spinach, shredded
Pinch smoked paprika
1 tbsp hollandaise
Method
Heat non-stick frying pan to med-high heat, fryer to 180 degrees.
Fry crumbed chicken until golden and cooked through. Leave to drain and season with salt and pepper.
In frying pan grill prosciutto on both sides until crisp, remove and set aside to drain.
In the same pan add buns, buttered side down and cook until toasted, remove.
In the same pan, add a little butter and fry egg until whites are cooked, but leave the yolk runny.
Place base of bun on serving plate then top with tomato relish, sliced spinach, prosciutto, fried chicken, egg, then sprinkle paprika, pepper and salt on the egg.
Spread hollandaise generously on the lid and then add to burger before serving. Serve immediately for best results.
---
4th December 2018