Data Driven Cooking
The Data Driven Cooking artificial intelligence technology is designed to help you make the most of the potential of your UNOX CHEFTOP MIND.Maps™ PLUS oven:
It collects data, processes information, analyses the modes of use and gives you a daily report, and connects to the Internet cloud to identify and suggest recipes and personalized hints for your actual needs, which translate directly into new products for your clients.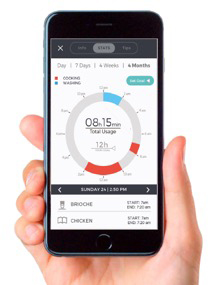 With Data Driven Cooking, UNOX CHEFTOP MIND.Maps™ PLUS ovens become much more than a simple piece of kitchen equipment.
They become a true partner that contributes to the creation of your success.
Data Driven Cooking. Closer to you, closer to your success.
To find out more click here.
February 22nd 2018.