Oz Tank - Your Ultimate Cleaning Solution
The original stainless steel, double skinned soak tank system

Non toxic - Non corrosive - Bio degradeable -
Environmentally friendly - User friendly

Perfect for restaurants, RSL clubs, hospitals,
kitchens, bakeries, hotels and pubs


Save time and money
Oz Tank's stainless steel, double skinned soak tank system will save on the cost of labour, costly chemicals, water and electricity. The continued use of cooking equipment without regular and thorough cleansing causes fat build up which soon turns into a carbon like crust becoming so hard that it is almost impossible to remove. The Oz Tank soak system solves this problem quickly, efficiently and without harming the environment. More information >>

 
A cleaning solution designed for the hospitality industry
Perfect for restaurants, RSL clubs, hospitals, kitchens, pubs and hotels, our soak system cleans pots, pans, grills, stove tops, roasting pans, oven racks, filters, heavy duty cutting boards, cutlery, crockery and much more. To find out just how easy the Oz Tank system is to use click here to view the operating instructions
- Before and after using an Oz Tank soak system.
Safe & environmentally friendly
It is our aim to manufacture and supply products which make kitchen cleaning both simple and safe. We also strive to keep ourselves at the cutting edge of equipment cleaning in the catering and baking industries. Oz-tank is committed to high standards of customer service. More information >>
Oz Tank - The kitchen efficiency specialists
Oz Tank is an Australian owned and operated company comprising a fully trained, safety inducted team. We supply a cleaning system that works. Oz Tank is the ultimate cleaning solution that will not only save you money, time and labour but is also fully HACCP accredited. Best of all it is safe and user friendly.
Click below to find out more information.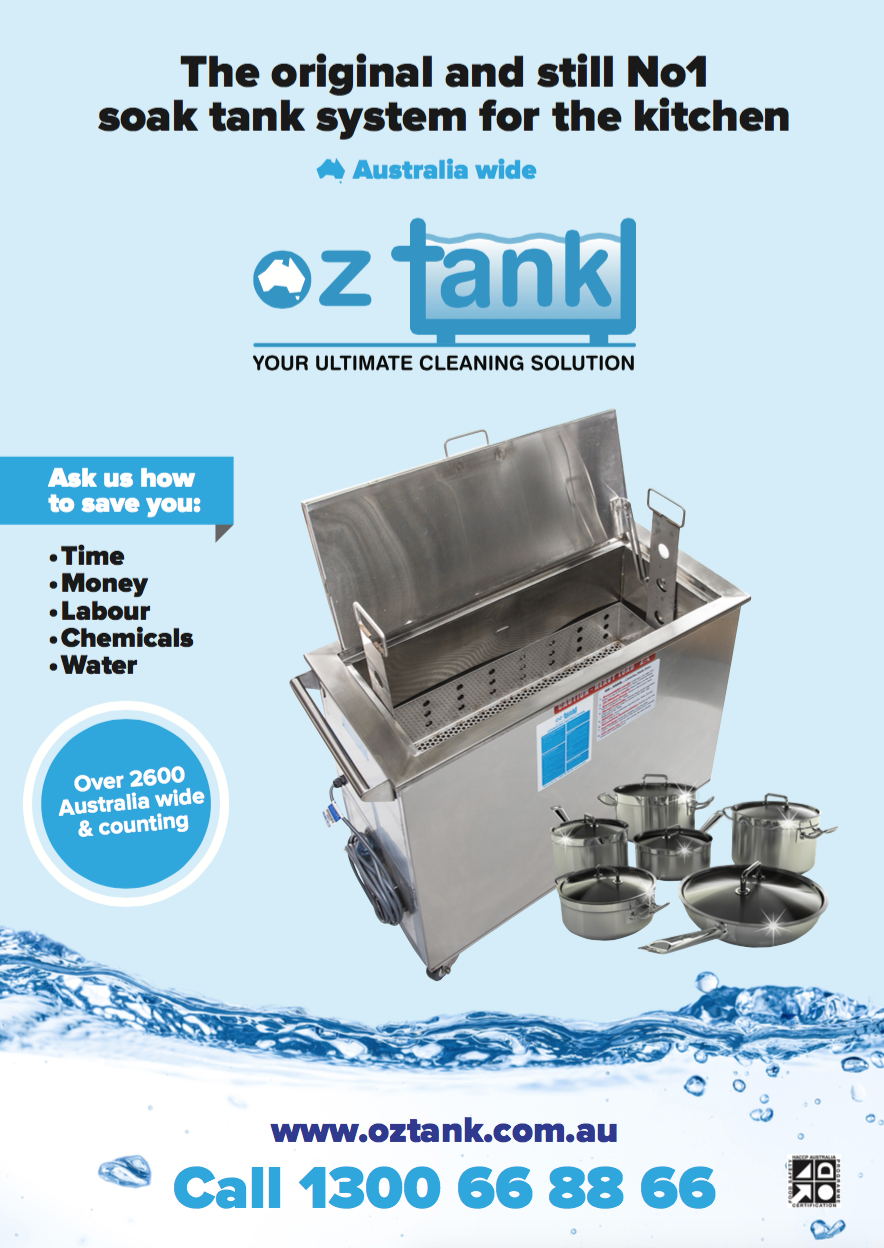 3rd May 2018.