PM 1214 Commercial Flatwork Ironer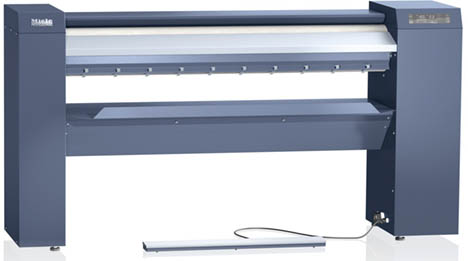 The Miele PM1214 flatwork ironer has a 1400mm long roller, and is a commercial flatwork ironer for commercial laundries.
The throughput on this rotary ironer is 33kg per hour @25% residual moisture, the laundry is returned to the front for easy operation.
Can be installed against a wall.
---

 

 

 

 

  

 

 

 

 

Features



Simple operation
Large touch display for simple programme selection and overview of all important functions
Freely positionable footswitch for fast and convenient operation
Steel wool padding with ARAMID needle felt cloth
Aluminium trough for short heat-up times and excellent heat distribution
Variable temperature control in 1°C increments
Freely selectable roller speed
Work in a standing or seated position
Individual working height through adjustable machine feet and optional plinth

---

 

 

 

 

Specifications



Roller diameter: 210 mm
Roller length: 1400 mm
Throughput: 33kg / hr @ 25% residual moisture
Heating type:                         Electric
Electrical connection: 3N AC 400V, 50-60Hz
External dimensions: H 1032, W 1973, D 651 mm

 

---
---
 
January 30th 2018.