Colour Your Performance World with Select Concepts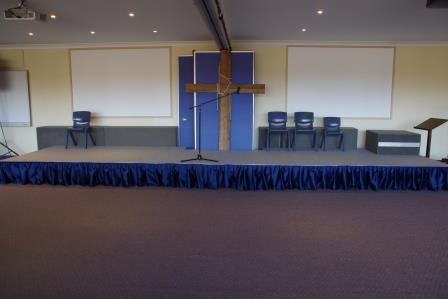 Midnight Blue Valance System adds visual elegance
Choice is a wonderful thing! Optional colours, sizes and shape variations imbue personality and character to important structural purchases. When Mid North Christian College purchased a Portable Stage System we custom built to their own choice of carpet colour, valance colour, podium sizes and shapes.
The Select Concepts design team worked with Mid North Christian College to produce a guaranteed stage solution unique to their specific event and performance requirements. Select Concepts is pleased to be among the very few manufacturers who specialise in providing customers a totally Australian made portable and permanent stage system solution.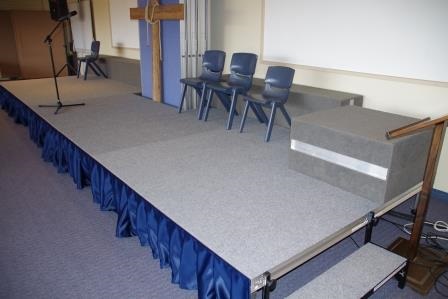 This newly installed QUATTRO Stage System looks permanent yet is totally portable to be moved when the school hall is required for alternative uses. The centre podiums are custom sized and shaped to accommodate the concertina room divider folded against the rear wall - plus providing a prime position for the church cross to be safely installed to maximum effect.
Midnight Blue Valance stage curtains on three sides coupled with Slate marine grade carpet on all podiums and both sets of stairs are a visually stunningly décor choice. Adjustable height legs were the final addition and will provide multiple height options anywhere in the college grounds.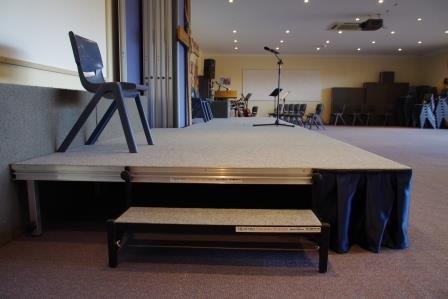 Every performance, event and hospitality management team deserve to have their hard work showcased in the best possible way. Phone Select Concepts today and perform at your best tomorrow.


---
Website: www.selectconcepts.com.au/
Phone: 1300 778 243
---

October 27th 2016