The Reserve Bank of Australia to Exhibit at AGE 2016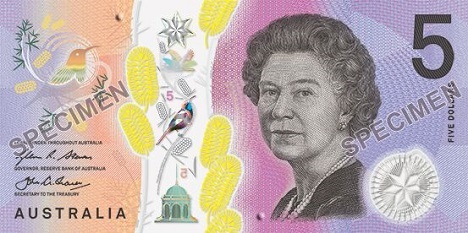 Why has the Reserve Bank of Australia decided to exhibit at this year's Australasian Gaming Expo?
From 1 September, there will be a new $5 banknote. The new banknote has a range of innovative security features that have not previously been used on an Australian banknote. These features are at the cutting edge of technology and will help keep our banknotes more secure from counterfeiting into the future.
What changes have been made to the banknote?
Changes have been made to the overall design to accommodate the new security features, but the banknotes retain the colour palette, size and people portrayed on the existing $5 banknote. The banknotes will also continue to be printed on plastic. The new series of banknotes will feature a different species of wattle and a native bird on each denomination. The $5 banknote features the Prickly Moses wattle and the Eastern Spinebill. There is also a tactile feature to assist the vision-impaired community.
What can visitors to your stand at the AGE expect to see?
Attendees at the expo can preview the new $5 banknote at the Reserve Bank of Australia stand. Staff from the Reserve Bank will be present for the duration of the expo to demonstrate how the new security features work and answer any of your questions about the next generation of banknotes. You can also learn about the security features on our existing banknotes, which can continue to be used, even after the new banknotes are issued.
by Gaming Technologies Association, July 28th 2016