Jasol Stylish and Reliable Dispensers for the Hospitality Sector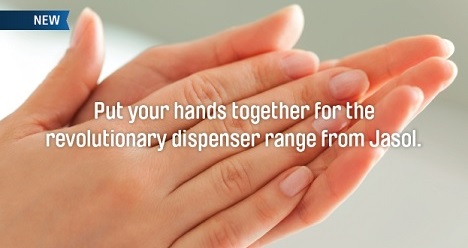 You'll applaud our stylish and durable, easy to operate dispenser range that suits every hygiene point.
 

Touch Free or Manual Foam + Soap Hand Sanitiser Dispenser

Jasol's wall mounted touch free or manual soap and/or foam option dispenser's are the latest innovation with a 100% disposable inner mechanism, which ensures full hygiene integrity. Highly versatile, both units are made with the same unique mechanism with interchangeable pumps and soap pods that can be switched between both the touch free and manual models easily and hassle free.  Once the soap pods are popped into the unit they will only need replacing when the container is empty – which has a light on the front to show you when this is necessary. The chemical is never in contact with air or germs, hence its integrity is never compromised.

 

Wet Wipe Dispenser

Solid and clever, the modular dispenser has been designed to dispense one wet wipe at a time while keeping the remaining stock as fresh as new. Wall mounted, this static cleaning station also keeps the workplace tidy and locks away the stock of wet wipes.

 





Hand & Surface Cleaning Wipes

A canister developed specifically for the Dispenser unit with woven fabric enables removal of dirt and grime from hands and surfaces.  The unique cleaning formula is safe on hands and surfaces – Containing Aloe Vera leaf extract known for moisturizing properties – Ethanol free formula.

Safe T Guard
(alcohol free, foam hand sanitiser)

For over 80 years Jasol has a trusted reputation for providing best in class products (for value and effectiveness) on all our cleaning and hygiene solutions (chemical manufacture plus equipment supply) and in line with this tradition, we're pleased to announce Safe T Guard; our new innovative instant hand sanitiser joining our Personal Care Range soon.

We understand the constant need for hygienically clean hands across the aged care and food & beverage industries. Where washing of hands is not always practical, the use of Sanitiser's is now a quick, reliable sanitation method to eradicate and stop the spreading of harmful bacteria. Whilst in the past, the most traditional hand sanitisers contained up to 60% alcohol (which can be a very efficient ingredient to reduce germs but leaves the skin dry, sticky with probable skin irritation problems and poor aroma) Jasol's Safe T Guard is an alcohol free, instant hand sanitiser, containing unique ingredient's that reduces the spread of germs. Delivered via a touchless dispensing system as a foam (or via pump bottle) onto the surface of the skin and quickly evaporates when hands are rubbed together. This unique moisturising formula is also perfume free which also makes it ideal for use in food processing environments, leaving hands soft, smooth with no lasting stickiness, odour or residue.


 

 

 
 5th May 2016