RSA and Food Handling Certificates
Food Handling Certificate is also commonly known as Food Handlers Certificate, Workplace Hygiene Certificate, and Food Hygiene Certificate.
This Discounted Course Package is valid in WA, SA, and NT only. This package includes both Responsible Service of Alcohol and Food Handling Certificate - SITXOHS002A
This is the Ultimate Starter Package if you are looking for working within hospitality or any food or alcohol orientated business!
Work confidently in a bar and/or kitchen with this food and beverage short course. This hospitality pack is an entry level course for people looking to get into the hospitality industry.
What will you achieve from this course?
The Food and Beverage Short Course will provide you with the skills and knowledge of Australian and State liquor legislations and penalties, how to identify customers to whom service should be refused, prepare and serve alcohol responsibly and assist customers to drink within appropriate limits.
It will also provide you the skills to follow hygiene procedures, report and identify any personal health issues likely to cause a hygiene risk, prevent food and other item contamination and prevent cross contamination.
Save money on this package and start in the hospitality industry today.
Upon successful completion of these two units of competency you will receive a Statement of Attainment for part of the industry qualification in Advanced Diploma of Tourism Management (SIT60107) and your Responsible Service of Alcohol RSA Certificate.
Easy, quick and affordable to complete.
Courses are conducted online.The course starts as soon as you sign up, log in and select the course. You may start the course any time you like and you can stop the course if you'd like a break and resume your course exactly where you left it by signing back in with your username and password. Once you have completed this course and payment is made your Nationally Accredited Certificate will be e-mailed to you.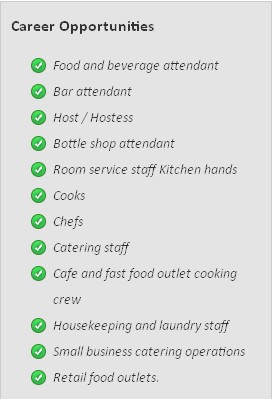 How long does the course take?
Total nominal hours:
3-4 hrs
Course Access:
Maximum 3 months access to online course.
Prerequisites
» Sufficient literacy and numeracy skills to complete the course
» Access to an internet connection and computer
Delivery Mode
Online
Click here for more information