Eltham Hotel must lower noise levels following resident complaints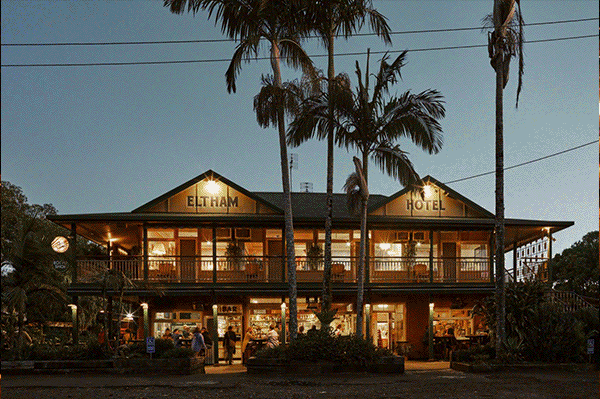 Noise complaints have forced the historic Eltham Hotel in NSW to implement strict new noise conditions.
Complaints from homeowners living close to the venue were investigated by Liquor and Gaming NSW.
One complaint cited noise from a flood recovery fundraiser event, while others said that late-night music from the venue was "impacting their quality of life".
The decision to implement noise conditions comes just three weeks after the state government said it would introduce new laws protecting live music from the threat of noise complaints.
Co-manager Matt Rabbidge said he was "bitterly disappointed" by the decision and that the owners of the 121-year-old venue had endeavoured to address noise impacts on neighbours.
Measures to reduce noise include a self-imposed curfew and noise monitoring.
The pub is popular among locals, who have been gathering there since it was a bustling railway village.
However, a joint complaint by three residents living near the site said the venue had turned from "fun and entertaining" into a source of noise and disturbance frustration.
They say the problems began with the change of ownership. Residents referred to "mini music festivals" and "extreme noise" from live bands.
"We're a small pub in a country town and when we took over (the venue) we removed the poker machines to shift the focus to food, drink and live music," Rabbidge said.
"We support up and coming musicians and we've also been lucky to have had some significant acts performing at the hotel.
"In the last 18 months we've changed the style and frequency of the music specifically to address the complaints (from residents).
"We're now starting down the barrel of having to put in debilitating noise controls."
Part of the government's new regulations to protect pubs is to give less weight to the complaints made by those who move into the area, knowing they are moving close to a venue.
The Eltham Hotel argued this point in its official submission to Liquor and Gaming. Venue management also submitted documents from NSW Police which showed the venue was subject to 17 business inspections between 2020 and 2023 and "had not recorded anything in relation to excessive noise on any of these occasions".
Liquor & Gaming NSW regulatory operations and enforcement executive director Jane Lin ruled in favour of residents saying venue had at times caused disturbances.
She also referred to a submission from Lismore Council stating the hotel has "constructed a number of unapproved buildings works". These were to outdoor areas that allowed for an increase in patron capacity.
The works were meant to be used only for activities that "are restricted to an acceptable level".
Rabbidge said works were part of historic renovations of the pub and that the venue was seeking to have them formalised with Lismore Council.
Lin pointed to these works as causing the issue.
"As these works have not been approved by council (this) further lends weight to the disturbance being considered undue," she said.
The venue must now comply with three noise conditions including installing a noise limiter for amplified music.
Venue operators are now seeking legal advice.


Jonathan Jackson, 16th November 2023