The world's tallest timber hotel planned for Adelaide CBD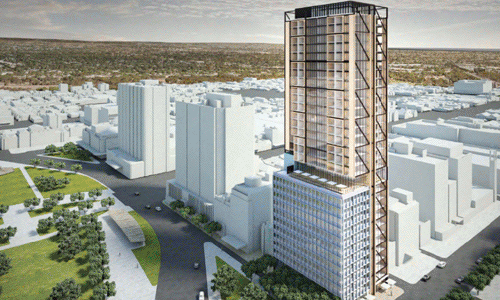 Adelaide is set to host the world's tallest timber hotel.
Developer Thrive Construct has unveiled plans for the hotel, which is part of a $300-million investment in tourism infrastructure in South Australia.
The CBD hotel will be paired with a second timber hotel in regional Whyalla.
The city hotel will be a 31-storey tower on top of the former, heritage listed MLC building, at 185 Victoria Square.
The MLC building was Adelaide's first post-war skyscraper. 
Should the plans be approved, the timber hotel will be flanked by the Adelaide GPO and the new BHP building.
It will be a carbon-neutral timber tower designed by Cox Architecture with 324 rooms, 22 residential apartments, a sky terrace on the 12th floor and a rooftop bar. 
The end value is $170 million and the hotel is slated to open in 2024 and is aimed at millennial travellers.
 "Our hotel development plan will provide an unprecedented boost to the South Australian tourism sector, driving domestic and international visitor spend into the state," Thrive Construct executive chairman Barrie Harrop said.
Thrive signed a joint development deed with Dim Georgiadis, representing the 11 owners of 185-187 Victoria Square.
The ownership group would retain the hotel for about three years, giving it time to mature as an operating hotel.
The hotelier will be announced at a later date and will also operate the Whyalla site.
The Whyalla Timber Hotel will include 164 hotel suites and 49 apartments and is surrounded by a 100-year-old botanic garden.
Norway currently hosts the tallest timber hotel in the world, with the Wood Hotel in Brumunddal rising 18 floors, with 72 hotel rooms.
There are several plans for timber hotels around Australia. Currently there is Australia's largest engineered timber commercial building, in Brisbane's Bowen Hills which reaches 10 storeys or 45m in height. Melbourne's Grange Development is planning the tallest timber building in the world in Perth, rising 50 storeys and comprising 245 apartments.
Irit Jackson, 3rd August 2022