Reef Hotel Casino sued to recover fraudster's gambling losses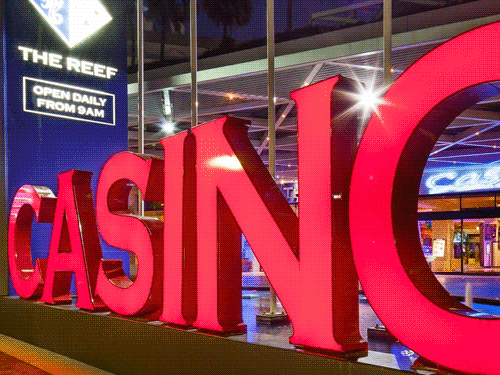 The Cairns' Reef Hotel Casino is being sued by a local business left out of pocket following gambling fraud.
The owner of Down to Earth Demolitions has made several claims against the casino, Westpac Banking Corporation, and the guilty party's sister Rayleen Broadway.
Wendy Ann Aspinall, 59 who was the office manager at Down to Earth Demolitions pleaded guilty and was sentenced to 11 years behind bars for defrauding Down to Earth Demolitions of $3.16 million between 2007 and 2017.
The family-owned business, owned and run by Rohan Murphy, is now trying to claw back some of the cash.
Murphy has claimed that the former office manager siphoned money from business accounts over a 10-year period, which she used at the Reef Hotel Casino.
The claim in the Cairns Supreme Court against the Reef Hotel Casino is seeking no less than $2.7 million that was paid to the hotel as part of Aspinall's gambling activities.
Down to Earth Demolitions is seeking declarations from the Supreme Court that money received by the Reef Hotel Casino was as a result of Aspinall's gambling activities and was held on trust by the casino. The suit alleges the casino should have known Aspinall had no entitlement to the money she was gambling.
The claim states the casino "wilfully shut its corporate eyes to the obvious fact that Aspinall was gambling with funds which were not hers and which she did not have the financial capacity to fund and thereby were highly likely to have been stolen".
It also claims casino staff knew Aspinall was employed as an office manager in Cairns, but that she was actively encouraged by Casino to gamble and was designated as a high roller.
It is alleged Aspinall received gambling incentives including free accommodation, free trips, cash advances and extra funds for gambling cards.
Down to Earth Demolitions is also suing Westpac for breach of contract and negligence in banking services.
Murphy claims he informed the bank of Aspinall's activities and had they investigated properly, would have found an "extraordinary" number of cheques being made payable to cash.
As for Aspinall's sister, Down to Earth Demolitions is also seeking an order that any money provided or gifted to her should be accounted for as she often accompanied her sister to the casino.
Defences are yet to be filed.
Irit Jackson, 27th June 2022