Australia's best chefs locked in and ready to shine at the Australian Open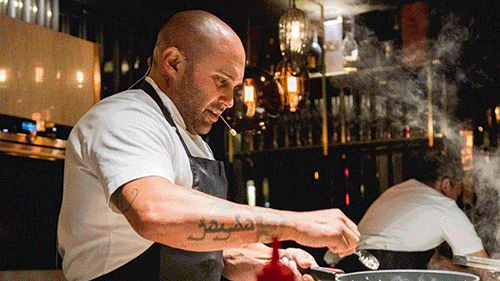 This year's line-up of chefs for the Australian Open has been locked in, with top chefs Ben Shewry, Guy Grossi and Shane Delia bringing their menus courtside.
Tennis fans could combine their love of tennis with food as they sample everything from treasured family restaurants to luxury tastings.
The menu celebrates Melbourne and Victoria's rich food scene.
Tennis Australia's Fern Barrett will deliver her second program as head of food, premium experiences and precincts and says, "I felt like there's so much content there, we'd only scratched the surface in 2021. I wanted to celebrate local again but with a global lens."
Ben Shewry's Atrium has been scaled up to two storeys with views of the city and views of the courts from upstairs. Attica will deliver also deliver takeaway menus. 
"I think it's the best event in Australia and I don't say that lightly. It's absolutely world-class," says Shewry. 
In The Glasshouse, Guy Grossi is offering three different sets.
"We're bringing it to a level where people can enjoy the food as well as the tennis," Grossi says.
"People of all walks can enjoy the Australian Open because of the atmosphere it creates… I enjoy the carnival feel that it brings along, I think that's all part of the fun."
Shane Delia's Maha Superboxes are available for those who want to indulge.
Two of Rod Laver Arena's level-four boxes have been transformed into "mini Mahas" for 16 guests.
"It's taking everything people love about superboxes but elevating it," Barrett says.
Dinner alone starts at $12,000 for you and 15 friends.
Irit Jackson, 13th January 2022