Stadium Australia to be renamed Accor Australia after hotel group wins naming rights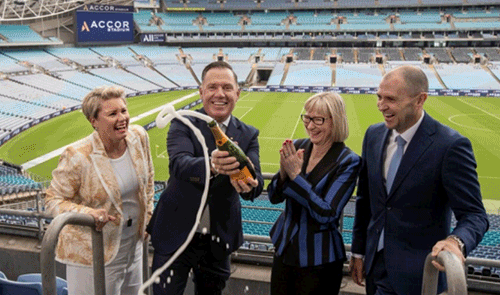 Accor Pacific has won naming rights for Stadium Australia at The Sydney Olympic Park, with the stadium to be renamed Accor Stadium. 
Natalie Ward, Minister for Sport, said the NSW Government was 'delighted' with the partnership. 
"NSW is open for business and we are thrilled our local fans, along with interstate and international visitors, will be able to experience fantastic sporting and entertainment venues like Accor Stadium. 
"Accor Stadium will have an important role to play in NSW in 2022 and beyond and I can't wait to see the seats filled again by those enjoying the experience of a large-scale live event." 
The stadium, that has a capacity to hold concerts for 100,000 spectators and over 80,000 people for seated sporting events, will incorporate LED video screens as well as other enhancements. 
CEO of Accor Pacific, Simon McGrath, referred to the partnership as 'natural' , adding: "Accor is dedicated to creating incredible customer experiences, and Accor Stadium firmly aligns with this vision.   
"We are immensely proud of this partnership, which is an investment in limitless experiences that bring people together, from world-class concerts, to sporting and family events," said Mr McGrath. This commitment also expresses our support for tourism, hospitality, events and travel, which play a vital role in our culture." 
Irit Jackson, 2nd December 2021