Mum charged with arson after hotel quarantine "issues"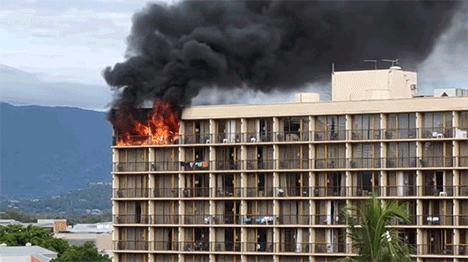 A woman in hotel quarantine with her two children has been charged with arson.
Police charged the woman with deliberately lighting a fire in the Cairns hotel room.
A top floor room of the Pacific Hotel was set ablaze forcing the evacuation of 163 people from the building. The evacuation took place in just five minutes.
The fire has caused significant damage to the hotel, but luckily no one was seriously injured, with only four people treated at the scene.
The 31-year-old Cairns woman was quarantining after arriving from Victoria on Friday.
Hotel occupants were relocated to another Cairns hotel.
"It will be alleged the 31-year-old woman lit a fire underneath a bed in the room where she had been staying with two children around 7am,'' a police statement said.
"The Manoora woman has been charged with one count each of arson and wilful damage and is due to appear in Cairns Magistrates Court on November 29."
Police said they had previous issues with the woman, with Acting Chief Superintendent Chris Hodgman saying, "We did have some issues with that female occupant that we were managing.
"We're lucky to have had a second quarantine facility here in Cairns and we're well practised, and we've exercised this actual scenario," Superintendent Hodgman said.
"Staff were well aware of what they needed to do to evacuate.
"It's been quite traumatic for some of those people, so that's our focus at the moment.
"They've got all their worldly belongings with them in the rooms, so we need to get that back to them as best we can … imagine being woken up at seven o'clock with this incident on a Sunday morning."
Irit Jackson, 29th November 2021