Marriott launches resort-style haven in Melbourne's Docklands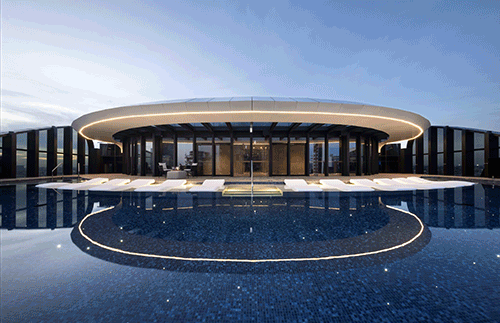 Docklands first international five-star hotel has opened, with the Melbourne Marriott Hotel Docklands being dubbed a "resort-style haven". 
The hotel features a 28-metre rooftop infinity pool and bar offering panoramic views of the city.
Sean Hunt, Marriott's vice-president for Australia, New Zealand and Pacific said it was the first Marriott-branded hotel to open in Australia in two decades. 
"We now operate a portfolio of seven hotels in Melbourne and 27 in the country," he said.'
"Despite an uncertain time through Covid, we are seeing the growth and confidence in travel re-emerge, and we look forward to being a part of the revitalisation of the travel sector throughout Australia." 
Lord Mayor Sally Capp said the Marriot's opening was a positive step towards the future of Docklands. 
"This highlights that major investors know how much potential lies in this beautiful precinct.
Docklands is featuring heavily in our Christmas Festival, showcasing everything from night markets to our spectacular drone show," she said. 
Girish Talreja, the hotel's general manager said: "We look forward to establishing our hotel as a must-stay hotel for both locals and visitors to the city thanks to our unrivalled dining outlets and spectacular rooftop pool and bar." 
The Marriot Hotel Docklands offers the first exclusive M Club executive lounge in Australia. Lounge guests can enjoy a 24-hour residential-style living room with breakfast items and light snacks during the day, and beverages and canapes at night.
Irit Jackson, 24th November 2021