Is Melbourne's Fed Square to become a food and wine mecca?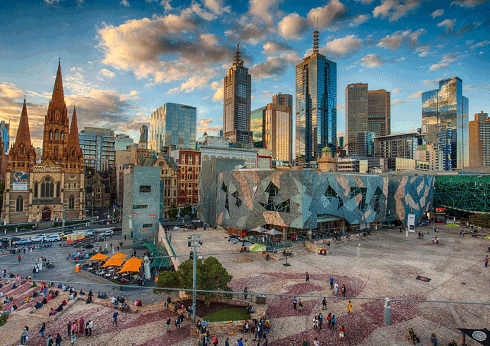 Melbourne Council is considering a proposal that would see part of the Heritage-listed Federation Square precinct demolished and rebuilt, with a new restaurant, bar and 'wine library' opened.
The idea behind the rebuild is to better connect the CBD to the Yarra River and surrounding parkland via Federation Square.
A planning application promises to "reactivate" the area.
According to Deputy Lord Mayor Nick Reece, Federation Square is not only a much-loved part of Melbourne, but was "the heart of our city" and "an incredibly desirable location for all businesses".
"While the architectural design of Federation Square was controversial when it first opened, it has become a highly recognised design motif for Melbourne," he said. 
"So any proposal to alter buildings within the square, even in a minor way, must be carefully considered and this application will be looked at closely by council.
"It will also be separately considered by Heritage Victoria, because Federation Square is a state-listed site." 
The plans by Renascence Gippsland Pty Ltd show a "bespoke hospitality venue", restaurant and event space, culinary "experience centre" and "wine library".
"The proposal is for a hospitality concept that embraces the cultural and educational aspects of Federation Square in concert with food and beverage service," says the planning application. 
The wine library would move "beyond the cellar door experience to provide an educative approach with a focus on climate and soil". 
The terrace would be transformed into a dining area that is waterproof, a mobile bar, retractable awnings, food cart, tables, fixed umbrellas and ground level seating installed. 
"The works will also enable public use and access to a long-forgotten corner of Federation Square, in the process supporting the civic function of the place and facilitating connectivity with River Terrace," states the application.
Irit Jackson, 25th October 2021