"Wake up" call for drunk, violent Airlie Beach pub patron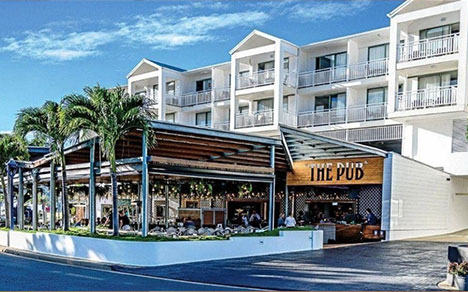 A 55-year-old mining consultant who struck an Airlie Beach venue manager in the mouth with a plastic bottle has received a "wake-up call" about acting his age after his drunken assault. 
On August 13, Ross James Brackley struck the 43 year old Airlie Beach Hotel manager in the mouth and called him a "c--t" when he was refused service for being highly intoxicated. 
Proserpine Magistrates Court heard Brackley was told by the manager that he needs to drink some water when he tried to order an alcoholic beverage at 10pm. 
Brackley responded that he already had one and held up the plastic Mount Franklin bottle. 
When the victim then told him he needs to be seen drinking the water, Brackley struck him in the mouth with the bottle. He was then restrained on the ground until police arrived.
The incident left the victim bleeding from a cut on the inside of his mouth. 
Brackley pleaded guilty to assault occasioning bodily harm while armed in a public place while adversely affected by an intoxicating substance. 
Defence barrister David Cole said the incident came after a day of celebration when Brackley had little food and large amounts of alcohol between 6.30pm and 9.30pm. 
When he watched the CCTV footage, Brackley was said to be "mortified" by his behaviour. 
According to Mr Cole, the incident came as a "shock" and a "wake-up call" to his client and since then he has paid the victim $1000 compensation and has engaged with counsellors. 
Magistrate James Morton said Mr Brackley "ought to know better" than behaving that way for a man of his age. 
On top of his $400 fine, Brackley is banned from the Airlie Beach Hotel for 12-months. He must also do 40 hours of unpaid community service to be completed within 12 months.
Irit Jackson, 14th October 2021