Sydney's Freedom Day sees cafés and restaurants get a major boost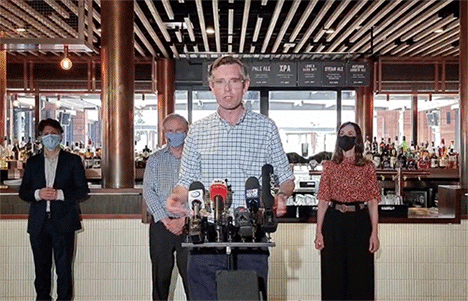 The people of Sydney finally came out of their 106-day lockdown on Monday and celebrated by giving café and restaurant owners a massive boost.
Those who are fully vaccinated can enjoy the freedom of visiting hospitality venues as well as go shopping and get their hair done. 
NSW Premier Dominic Perrottet sat for a haircut in front of the media where he stated that NSW's reopening should be a "beacon of hope" for Victorians who are still locked down.
Mr Perrottet said he has offered support to the Premier of Victoria in relation to the Victorian outbreak.
"I spoke to Dan Andrews on the weekend and we want to work very closely together on it," Mr Perrottet said. 
"Their main focus at the moment (is the outbreak) so I wish them well; it's an incredibly challenging time.
"Victoria has been locked down a hell of a lot longer over the last 18 months, but to them I think (NSW reopening) should not be seen as something that's negative; that they should see this as a beacon of hope." 
Once 70 per cent of Victoria's population aged over 16 are fully vaccinated, certain lockdown restrictions will be lifted, but it's only at 80 per cent milestone, when fully vaccinated people will have further freedoms, such as being able to dine out for seated service.
Irit Jackson, 12th October 2021