Echuka pub defies lockdown rules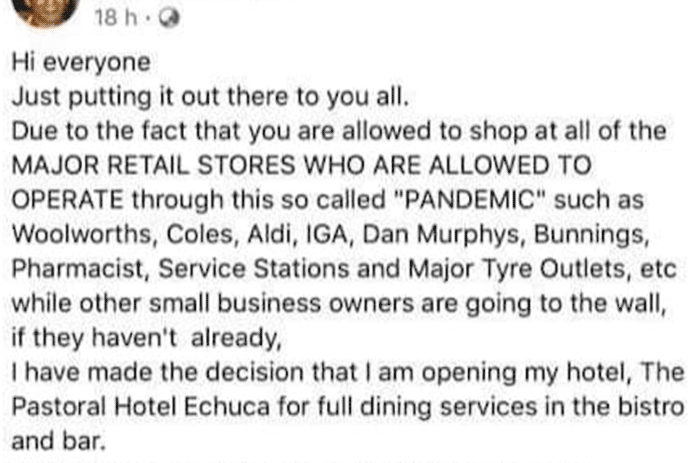 A pub in Echuka is defying the latest lockdown rules by opening its doors and welcoming patrons back whilst venues across Victoria remain closed under strict Covid restrictions. 
The Pastoral Hotel reopened on Saturday, serving drinks and around 70 meals with owner Trevor Andrews saying they would remain open despite being visited by the police.
"We can't keep going like this, they've tried to lock us down five times and it has got beyond the point of ridiculous," he said.
"When we were offering takeaway people would be standing in here waiting for their food so I thought I may as well put my whole dine-in menu on offer.
"I want every pub or hotel in Victoria to open their doors because how we're being treated isn't right."
Mr Andrews said that just a few minutes away, in Moama on the other side of the NSW border,  pubs were open under capped restrictions.
"There are currently no cases in the Campaspe region so it just makes no sense for us to be locked down like Melbourne," he said. 
"Every time we've opened our doors, in lockdown or not, we've done the right thing and followed the Covid-safe protocols." 
According to Mr Andrews, the police had visited his venue twice but didn't force him to close.
"I had seven people sitting in the bar yesterday when they came in," he said.
"Then we had two or three tables at dinner time. The police came in and took down the names of the people who were here.
"Now it's a waiting game to see where it goes." 
Spot fines of $1652 could be enforced if businesses breach lockdown rules and they may then face fines up to $9913 if rules continue to be broken.
Irit Jackson, 21st July 2021