North Coast gaming hotel for sale after 41 years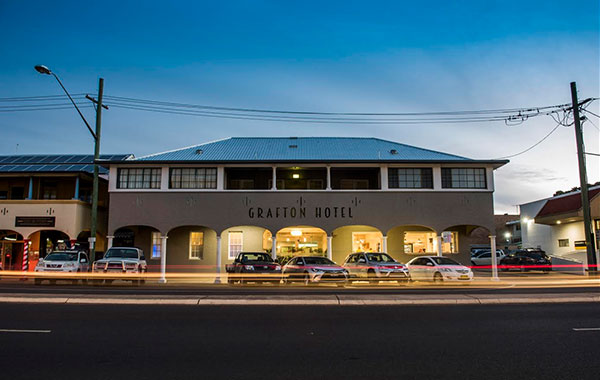 HTL Property Agents Xavier Plunkett and Blake Edwards are delighted to offer to the market the Freehold Going Concern Interest in Grafton Hotel, Grafton.
The Hotel includes a single bar operation, bistro, commercial kitchen, 13 pub-style accommodation rooms, function space, brand new gaming room with 15 gaming entitlements, strategically located
in the commercial core of Grafton.
The recently renovated Hotel presents immaculately and has undergone over $1million in recent Capex.
The vendors are the Dougherty Family, prominent members of the Northern Rivers business community, who have owned and operated Westlawn Insurance and Westlawn Finance for the past 50 years, managing over $200 million in investor funds.
The Hotel is being offered up after 41 years of continuous ownership citing favourable cyclical market forces, and the opportunity to pursue other existing investment opportunities as the primary motivation for the divestment.
"We have made a collective decision as a family to divest the asset" offered spokesperson for the family syndicate Jim Dougherty "The Hotel has been wonderful to our family over the years but ultimately it sits slightly outside of our core competencies of property investment, finance, insurance and accounting and we believe now is the right time to sell."
"The well-rounded business is producing ~$55,000 in weekly revenues, ~$40,000 of which comes from the highly profitable gaming and bar revenue departments" offered Lead Agent for the sale Xavier Plunkett.
"We expect strong interest from both Sydney-based hoteliers as well as local syndicates due to highly favourable economic and lifestyle drivers presented by the asset. The Grafton economy has been the beneficiary of huge local infrastructure spending as well as a recent increase in both regional migration and domestic tourism."
"The Northern Rivers is currently one of the most favourable regional markets, and we look forward to rolling that momentum into a successful divestment outcome for our valued clients"
The Hotel comes to market on the back of recent Northern Rivers Hotel Sales, including the Good Intent Hotel in South Grafton to the North Coast Pub Group for $5 million and the Lennox Hotel in Lennox Head to The Laundy and Short families for a reported $40 million, both executed by HTL Property.
HTL Property, 22nd February 2021