Ribs & Burgers under fire for alleged racist staff memo
Accusations of racism have rocked restaurant chain Ribs & Burgers, which is now investigating a memo to staff referring to the use of non-English languages in the workplace as "disgusting". 
The November 2020 memo, which was circulated via a senior staff member WhatsApp discussion group,  threatened disciplinary action against anyone speaking any language other than English in the workplace.
The memo was shared with SBS Arabic24.
It stated: "BE WARNED: NATIVE LANGUAGE SPEAKING WILL NOT BE TOLERATED ANYMORE."
It then called on the company's managers to managers to "stamp this out" and "treat occurrences of this with immediate disciplinary action." 
The memo labelled the speaking of other languages "disgusting" and "disrespectful", and that it "speaks completely against our Seagrass Culture of #togetherness".
The memo was sent out after four complaints by staff members about the use of foreign languages in the workplace.
Below is a copy of the memo published by SBS Arabic24: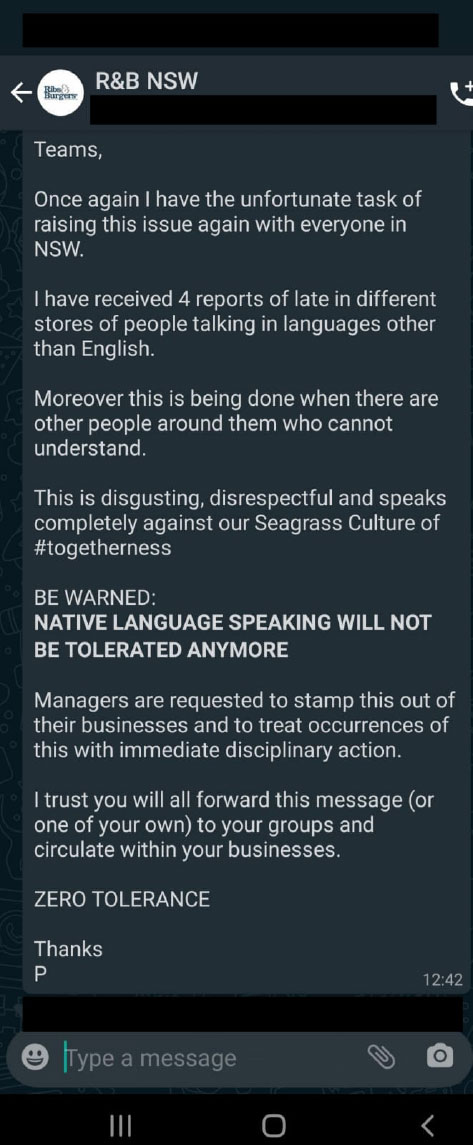 There are 12 Ribs & Burgers branches in NSW, with the chain operated by South African owned Seagrass Boutique Hospitality Group.
The Group is now investigating the matter, with a company representative saying, "While we are investigating this as a matter of urgency, we can immediately confirm that this communication does not in any way reflect our culture or our equitable employment policies and practices," the spokesperson said.
"We are very proud of our company culture and in particular our multicultural, diverse and inclusive workplace." 
A long-time Ribs & Burgers employee was shocked by the memo.
"How does banning staff from speaking their native languages with each other fit in with the culture of #togetherness," the employee said, while noting that all customers are spoken to in English.
The employee also noted that many of the company's employees were of diverse backgrounds and would understandably speak with each other in their native languages.  
"We thought the memo was weird but there's nothing we could do about it for fear of repercussions," the employee said.
It should be noted that the memo could be deemed as unlawful work discrimination ( adverse action" against an employee based on race, colour, national extraction, or social origin among other criteria) by Fair Work Australia.
United Workers Union National Council Member Gamal Babiker said, "Everyone has the right to speak their native tongue." 
Mr Babiker told SBS Arabic24, "It can be an asset for your company when an employee can understand something better if explained by a colleague in their language." 
"I could understand the policy if they were speaking to customers in languages other than English, but amongst themselves is a protected right."
Irit Jackson, 12th January 2021