Melbourne hospitality icons call on government to fast track re-opening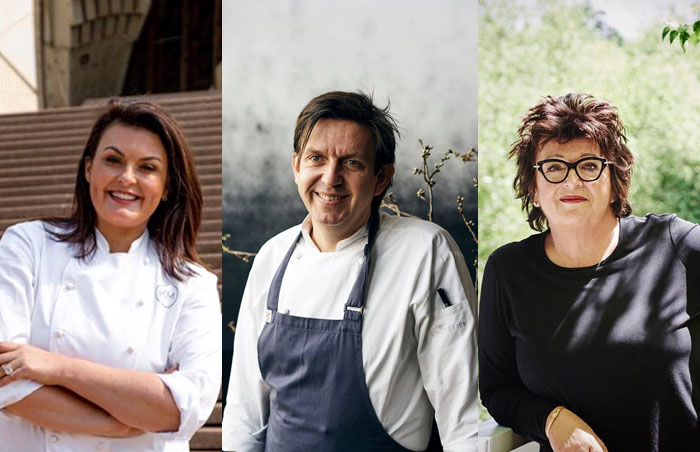 An open letter signed by almost 40 Victorian hospitality industry leaders is calling for the Victorian government to fast track the re-opening of restaurants, cafes and bars.
The letter states that the current timeline to re-open is too stringent and should take into consideration public health concerns and livelihoods affected by this pandemic.
The letter is a response by industry leaders including Alla Wolf-Tasker, Hannah Green, Andrew McConnell, Paul Wilson and Karen Martini, to the Victorian government's roadmap to a new "COVID normal" and are requesting that the industry open up under stage two restrictions.
Currently, the roadmap outlines 26 October as the earliest date that venues will be permitted to open, with only outdoor seating allowed.
By 23 November, 50 diners will be able to be seated inside a venue provided there are no new COVID cases in Victoria for the two weeks leading up to that date.
However, Stage 2 restrictions would allow up to 50 diners in an outdoor setting and 50 inside, with appropriate rules in place such as distancing, recording all contact details of customers and strict sanitation.
Change Victoria has authorised the letter and says it's not affiliated with any political party.
Etta owner, Hannah Green has said, "Reopening safely is paramount".
"Hospitality operators work in a highly regulated industry anyway, where health and safety is always a priority. [But] how can we have more of a dialogue about reopening sooner, instead of this blanket rule?"
Ms Green is also lobbying with her local council to allow for outdoor dining even though Melbourne's weather could mean it isn't such a foolproof solution. "It's four seasons in one day. We can't have that as our sole purpose of trade."
Since the pandemic started, Green has had to change how she runs her Brunswick restaurant a number of times. From offering take away meals to converting into a grocery and wine store. She is fortunate enough to have received rent relief.
"I count my lucky stars, but who knows what it'll be like in 12 months," says Green. "I am hopeful. I do think we will come out of it. But the longer this goes on, the harder it's going to be."
Government listens
In what should be a heartwarming move for the industry, in the last 24 hours the Andrews government has indicated it will transform Melbourne's streets into "pop-up" cafes and restaurants in order to speed up the hospitality industry's recovery. 
The move is part of the state government's additional $190m of support to sole traders.
Footpaths, car parks and public parks will be transformed into outdoor seating areas as part of a $100m investment into the CBD.
 "What we know, if you look at places like New York, where they have been able to get their hospitality sector back to something approaching normal faster than what would otherwise have been the case because they have used … public space and turned it into pop-up cafes, restaurants, bars. That is what we will do. We will change the way the city operates and the suburbs and regional cities," Andrews said.
"I think these changes will be so popular that they ought to be a feature of every summer … there will be a significant return on that investment, not just in the months ahead but in the years ahead."
You can read the full letter to the government below:
An Open Letter to The Hon Daniel Andrews, Premier of Victoria
Business owners and workers in the hospitality industry understand the need for caution when it comes to COVID-19. We do not take the health of Victorians lightly. But we believe the industry can safely reopen sooner than this road map specifies. We want to save jobs and livelihoods, to mitigate the negative impact on mental health, and help bolster the Victorian economy during this dire time.
Hospitality is more than cafes, bars, restaurants and pubs. It encompasses farmers, fishers, bakers, growers, butchers and artisan suppliers, as well as stallholders, wholesalers, truck drivers, and factory and warehouse workers. Our industry is a major contributor to the Victorian economy, and more importantly, it's a cornerstone of the character of our state. When tourists talk about Melbourne and Victoria, they talk about our cafe culture, pubs, fine diners, markets and wineries, which are among the best in the world. Our hospitality industry should be revered as a state treasure.
We have complied with government training and guidelines for COVID-19. We respect the care that has been put into plans that limit the spread of coronavirus, such as the accredited COVID-19 officers and contact tracing. We want to work with the government and public-health experts to control cluster outbreaks and protect our state. We are committed to best practices. But we feel it's time the Victorian government actually engaged with the industry to develop a realistic road map specific to hospitality, in order for us to reopen safely and allow our businesses to recover. We believe the current timeline is too strict. States such as NSW are reopening safely and monitoring clusters effectively with thorough contact tracing.
We are calling on the Victorian government to make the following accommodations earlier:
Indoor Trading
A maximum of 50 patrons per enclosed space, observing social distancing, density requirements, contact recording and appropriate sanitisation.
Outdoor Trading
Maximum of 50 patrons per outdoor area, observing social distancing, density requirements,
contact recording and appropriate sanitisation.
We are partnering with Change Victoria on this campaign, which calls for hospitality to be "unlocked" and encourages Victorians to take a selfie in front of their favourite local cafe, bar, restaurant or pub and post it on social media with the hashtag #ItsTime. We're also painting Melbourne pink – you'll see the Posters in venues and all over the city.
The campaign includes a petition to parliament, which can be viewed at changevictoria.com.au
Signed,
Alla Wolf-Tasker AM, Lakehouse and Dairy Flat Farm
Andrew Joy and Travis Howe, Carlton Wine Room
Andrew McConnell, Trader House Restaurants
Cam Jackson, Nevermind Bar
Con Christopoulos. European Group
Karen Martini and Michael Sapountsis, Mr Wolf
Chris Lucas, Lucas Restaurants
Fiona Perkins & Michael Bacash
Frank and Xavier Dimattina, Il Gambero and Bluetrain
Frank Van Haandel, Stokehouse
Geoff Lindsay, Dandelion
Hannah Green, Etta
Hayden Burbank, Morris Jones
Jason Chang, Calia
Jean-Paul Prunetti, France Soir
Julian Gerner, Morgan's Sorrento
Kate and Mykal Bartholomew, Adam D'Sylva, Tonka & Coda.
Kathy, Jacques, Natalie, Edouard and Antoine Reymond, L'Hôtel Gitan and Bistro Gitan
Lino Scidone, La Camera
Liz Rodriguez and Guy Grossi, Grossi Restaurants
Mallory Wall and Rinaldo Di Stasio, Di Stasio Restaurants
Matteo Pignatelli, Matteo's Restaurant
Michael Thiele, Hardimans Hotel
Nick Stanton, Leonardo's Pizza Palace
Rene and Jason McConnell, Dave Parker, San Telmo Group
Paul Dimattina, Lamaro's Hotel
Paul Olynyk, Public House Group
Paul Wilson, Mr Wilson
Rabih Yanni, Botanical Hotel
Scott Pickett, Pickett & Co
Teague Ezard, Gingerboy
Tom Walker, Bleakhouse Hotel
Authorised by Stuart Eaton for Change Victoria Incorporated, Level 27, 101 Collins Street, Melbourne.

Irit Jackson, 15th August 2020