Le Cordon Bleu scholarships for new qualifications pave the road to hospitality recovery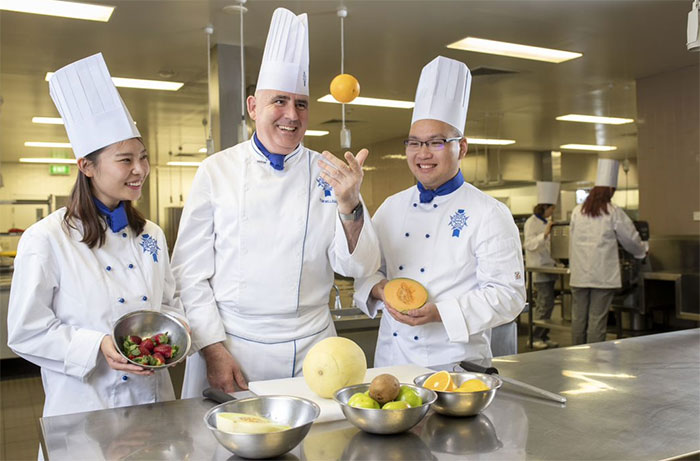 When Australia's cafes and restaurants closed their doors, facing uncertain months ahead, culinary institute Le Cordon Bleu was cooking up an idea: short, virtual, officially recognised qualifications to help hospitality professionals future-proof their careers.
To support Australia's healing hospitality sector, Le Cordon Bleu has launched an innovative online program featuring 13 new Undergraduate and Graduate Certificates — with all courses delivered over 10 weeks on a full- or part-time basis.
The higher education certificates offer hospitality workers opportunities to upskill and pave pathways into leadership roles across all facets of the industry, from gastronomy to tourism management, hospitality marketing to food merchandising.
For early applicants to the program, Le Cordon Bleu is offering scholarships discounting 50 per cent of the course fees, available to both domestic and international students.
"We recognise that this is a challenging time for many industry professionals. But it is also an opportunity for innovation and reinvention in the sector," says Le Cordon Bleu Executive Dean Professor Alan Bowen-James.
"Le Cordon Bleu is committed to supporting the revival and growth of Australia's hospitality industry, and part of that is ensuring that our courses are accessible to everyone."
Professor Bowen-James says the new qualifications will not only help hospitality professionals get back on their feet but will also encourage anyone with a love of food to turn their passion into a rewarding career.
"The hospitality industry is part of the heart and soul of Australia; we want to ensure that it returns bigger and better than ever before, and that people continue to pursue their dream of a career in the culinary arts," Professor Bowen-James says.
"Le Cordon Bleu is renowned as a world-leading culinary institute. We set the benchmark and therefore have a responsibility to help current and future chefs, restauranteurs and gastronomic tourism operators, among many others, to build rewarding, long-term careers."
The first undergraduate courses are set to begin in July, with postgraduate to commence in August. Each Certificate is an accredited higher education qualification with pathways into Le Cordon Bleu Australia Bachelor's and Master's degree programs and may provide entry to similar undergraduate awards offered by other higher education providers. A full list of higher education certificates on offer can be found here.
Le Cordon Bleu Australia, 29th June 2020