Adelaide's Frome Central development reaches new heights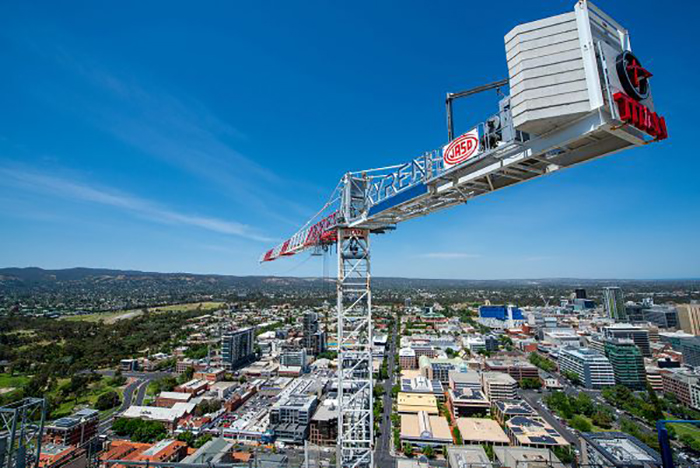 The Kyren Group's $150 million Frome Central development – home to the Adelaidean and Crowne Plaza Adelaide – reached its pinnacle construction milestone "topping out" as Adelaide's tallest building.
Located diagonally opposite Lot Fourteen, the mixed-use tower now stands at its maximum height of 36 levels and 135 metres.
"We are enormously proud to reach this stage of a project that is changing the skyline of Adelaide and is the physical realisation of years of hard work for many South Australians," said Theo Samaras, Kyren Group's founder and managing director.
"The Kyren Group delivers on our promises and we hope that this building is a confidence booster for other developers to bring further growth and development to the city.
"It is so rewarding to reach such an important milestone and bring the dedicated Kyren team and our contractors and partners together to mark this event."
Adelaide Mayor Sandy Verschoor said the development will bring an important economic boost to the East End when it opens in 2020.
Kyren Group has signed a long-term agreement with IHG to operate the hotel and brand it under the Crowne Plaza name.
The hotel will have 329 guest rooms located from the 3rd floor to the 20th floor, including 20 suites, and will include more than 450 square metres of meeting and conference space as well as a Skydeck pool area, bar, restaurant, gym and parking facilities.
"The recruitment of management roles is almost complete, and we will be embarking on a large employment drive in the coming months to ensure the remaining required staff are recruited, trained and ready to impress - as much as the views," said Crowne Plaza Adelaide general manager Sarah Goldfinch.
"The 10th floor lobby Skydeck of the hotel will offer spectacular panoramic views and will incorporate the reception, restaurant and bar, gym, outdoor pool and Crowne Plaza's new public space design area called Plaza Workspace, which marks the future direction for the brand globally.
"Plaza Workspace is an entirely new take on the traditional hotel lobby space, offering inspiring surroundings where hotel guests and locals can feel comfortable to do some work, enjoy a coffee over a business meeting or socialise with friends."
Sheridan Randall, 7th November 2019