Sydney hotel for sale after 35 years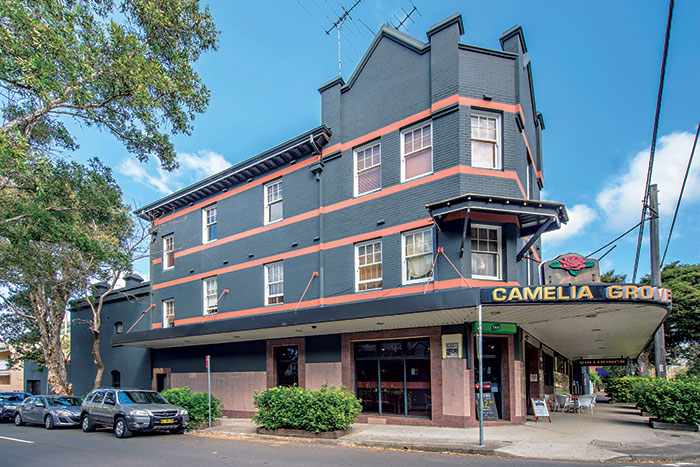 Industry stalwart Adella Wright Young has owned and managed the Camelia Grove Hotel for almost 35 years, and has decided to call time on the industry.
HTL Property directors Blake Edwards and Sam Handy have been entrusted by Mrs Wright Young to coordinate the sale of the asset, which is being submitted to market via an Expression of Interest campaign closing on the 31st October 2019.
The impressive freehold going concern hotel features a bar, bistro, 19 gaming entitlements, Manager's accommodation, beer garden and alfresco seating.
Included in the sale is the adjacent 5-bedroom terrace which adds 178m2* to the site area, bringing the combined holding up to 751m2*.
One hundred metres from the front door of the hotel is Australia Technology Park, with 18,000* workers and 700* car parks. Technology and Operations staff from CBA have started moving to a new building on the site which will eventually house 10,000* employees.
Other dynamic urban renewal projects proximate to the hotel are the Redfern to Eveleigh Corridor, a 12 ha* site with 1,200* new apartments; the Ashmore Estate master plan, a 17 ha* site, 3,500* new apartments, 6,000* new residents – essentially doubling the existing residential population of Erskineville; and the Waterloo Metro Quarter & Waterloo Estate, a 20 ha* site with 5,000 new apartments.
"The combination of a shortage of prime opportunities in the Sydney market, and a site like this with such raw potential located in a growing and dynamic part of the city, is expected to attract huge interest from the market" advised HTL Property Director Blake Edwards. 
"We are honoured to be engaged by such a prominent and well-liked member of the hotel fraternity so as to assist her in the divestment of this magnetic asset" added Edwards. Mrs Wright Young purchased the lease of the hotel in 1983 from Tooth and Co, and is considering a move back to the bush after the sale. 
"After so many years it is bittersweet to be selling the hotel which has been my home and business for so long" said Mrs Wright Young. 
"But I still work most days, so selling will give me free time to do other things and spend time with my family" Wright Young concluded. 
"We've been in discussions with Adella over the last 12 months about the right timing for her exit strategy, and she has been undoubtedly buoyed by some of the recent sales including the Harbour View Hotel ($12m), Friend in Hand Hotel ($10.25m) and Bells Hotel ($13.5m). 
*approx 
HTL Property, 3rd October 2019