Hobart hotel launches fundraising page to pay for renovations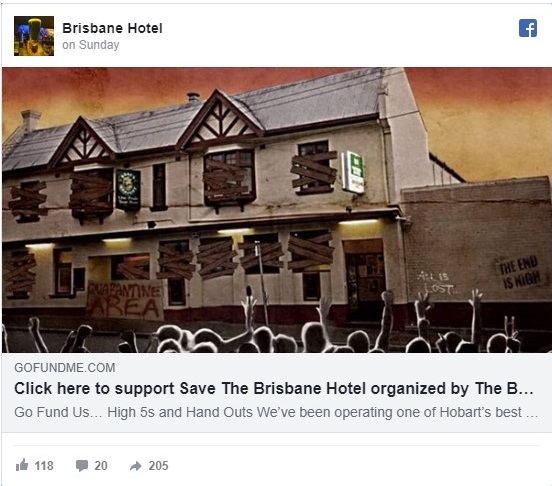 The Brisbane Hotel in Hobart is tapping the public to pay for urgent repairs that will keep the pub open.
The hotel has been on notice from Hobart City Council for three years over safety issues.
After it was issued with a Building Notice preventing it from holding any live music events, a "save The Brisbane Hotel" GoFundMe page was set up by the owners Christopher 'Gibbo' Giblett and Casey Bond.
The two said they were in the process of applying for a "temporary occupancy permit" which would allow them to continue holding live gigs for three months while they finalised what renovations needed to be done.
Giblett said the money raised through the crowd-funding campaign was expected to go towards four industrial exhaust fans, upgraded fire alarms, a secondary fire exit, lighting, and an accessible entrance and toilet downstairs.
It would also pay for necessary updates to the hallway and 10 rooms upstairs.
Giblett said the pair had put their "blood, sweat, beers and tears" over 12 years into establishing the hotel as one of "Hobart's best live music venues".
"We've started off so many young bands here and watched them grow and I think that's important for the state," Giblett said.
"Now we're fighting to keep the doors open to ensure we keep the rock 'n' roll alive."
Hobart City Council general manager Nick Heath said they were not the "fun police", but rather dealing with an "issue of safety and particularly fire compliance".
"The owner is well aware of our concerns and appears to be ignoring the requirements of the Building Act 2016," he said. "This issue is all about patron safety."


Sheridan Randall - 15-08-19