Marsden Brewhouse apologises after offending allergy sufferers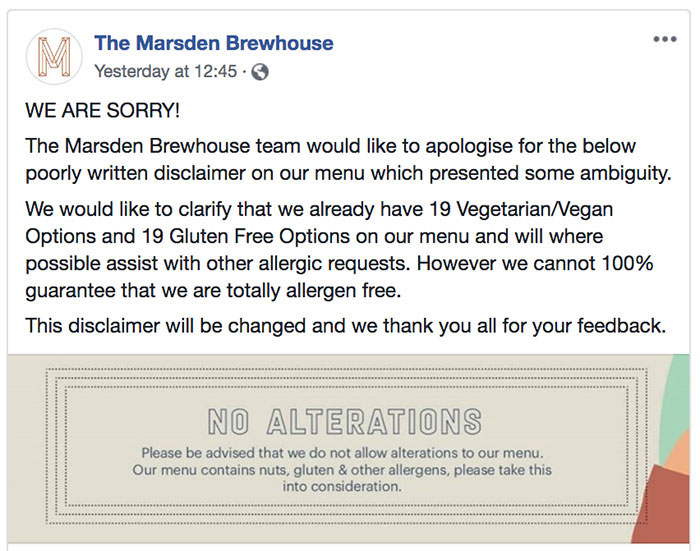 The Marsden Brewhouse in Sydney's north west has been forced into damage control before it has even opened its doors.
The $45 million pub and eaterie by hotelier family the Laundys has issued a public apology after numerous complaints by allergy sufferers about the wording on its menu.
After posting a menu teaser on Facebook, the venue was barraged with more than 4000 posts angry at the wording regarding allergies.
"Please be advised that we do not allow alterations to our menu. Our menu contains nuts, gluten and other allergens, please take this into consideration," the post read.
The response was damning, with Allergy & Anaphylaxis Australia (AAA) saying "food allergy is not a lifestyle choice".
"How difficult/time consuming is it to leave the cheese off a burger, leave gravy off a dish or forego the pesto in another menu item?" they wrote in a Facebook post.
"People with food allergies diagnosed by a medical doctor don't choose to have them.
"It appears this place is incapable of proper food handling if you can't cater for the need of people with food allergy. Discriminating against those who have an auto immune life threatening condition is hardly community minded."
The venue immediately posted an apology.
"The Marsden Brewhouse team would like to apologise for the below poorly written disclaimer on our menu which presented some ambiguity," the post read.
"We would like to clarify that we already have 19 Vegetarian/Vegan Options and 19 Gluten Free Options on our menu and will where possible assist with other allergic requests.
"However we cannot 100% guarantee that we are totally allergen free.
"This disclaimer will be changed and we thank you all for your feedback."

25th March 2019