THE COUNTRY'S BEST NEW PRODUCTS NAMED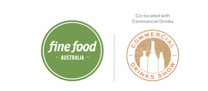 This week at the nation's biggest food event, Fine Food Australia, the nation's best new products in the country were named. An annual event, the Best New Product Awards recognises the most outstanding products to have launched in the food industry in the last twelve months.
The 2017 entrants raised the bar and shone a spotlight on the level of innovation and quality products being produced from not only around the country, but the world. Chosen by a panel of industry experts from across major foodservice and industry mastheads, winners range from ground breaking technology to healthy food for kids.  
Host of the awards, Event Director Minnie Constan, commented, "2017 has been a huge year for our industry and the number of new products we've seen entered reflects that. We've also seen key trends such as the ongoing sugar-free and healthy alternatives movements reflected, and of course an ongoing focus on innovation and technology. What was common across all categories was a clear focus on creating products that meet consumer demands, regardless of whether the customer is from within or outside of the industry. The Best New Product Awards have again demonstrated that this is breaking ground and creating some incredibly innovative products. These awards are as much about celebrating this great industry as much as it is about recognition of particularly great new products."
Winners of the 2017 Best New Product Awards are:
Best New Retail Product
Winner: Mini nom noms for kids by Nom Noms World Food
A multi-award winning concept, the Mini nom noms are single course multi -compartment meals that allow children the opportunity to mix, dip, pour and sprinkle, allowing kids to explore and to learn to season their food according to their developing tastes. Nom Noms World Food is the only ready meal brand that can serve the needs of both children and adults with the exact same recipes and meal concept. It's grown up food, for the growing palates.
Retail Runner up 1: Noshu 99% sugar free, indulgent cake mixes by Noshu Foods
Retail Runner up 2: rok Margaret River by rok Margaret River (Kombucha)
Best New Foodservice Product
Foodservice Winner: The Yello Platform by Drive Yello
DriveYello helps businesses efficiently manage last mile logistics so they can meet the ever-increasing demand for express delivery. The Yello technology makes it easy to inform customers of delivery status, manage their own drivers and riders or book delivery personnel from the market place for a shift or single delivery.
Foodservice Runner up 1: Cream Workwear Uniforms by Cream Workwear
Foodservice Runner up 2: RB Baked Shells by Ready Bake 
Best New Hospitality Equipment Product
Hospitality Equipment Winner: SHEPHERD FILTERS by Shepherd Filters
Shepherd Filters capture airborne grease before it enters the kitchen exhaust system. Made from Australian wool, the disposable filters are environmentally friendly and also eliminate fire risk. Whilst traditional metal filters stop between 30 – 40% of airborne grease, Shepherd Filters captures up to 98% of grease before it enters the hood.
Hospitality Equipment Runner up 1: Flexeserve Zone by Meris Food Equipment
Hospitality Equipment Runner up 2: Let's Cook Cloud Solution by Goldstein Eswood
Best New Bakery Product
Bakery Winner: Ordermentum Retailer App by Ordermentum
Ordermentum powers the food and beverage industry, helping businesses get orders and payments in on me, every time with a mobile ordering/payment system. Ordermentum processes over $3m in payments per month and helps over 150 suppliers and 6000 retailers reduce operating costs, bad debt, trading risk and improve sales. 
Bakery Runner up 1: "TIFFANY" Jewellery Confectionery Case by Artisan Food Equipment
Bakery Runner up 2: Sunset Glaze by Puratos Australia
Fine Food Australia is strictly a trade only event.
When:                                11 – 14 September 2017
Hours:                                 Wed 10am – 6pm; Thu 10am – 4pm
Where:                                ICC Exhibition Building, Sydney, Darling Harbour
Registration:                       http://finefoodaustralia.com.au/
Fine Food Australia is strictly a trade only event. Children are not permitted.