Burwood is turning into a food precinct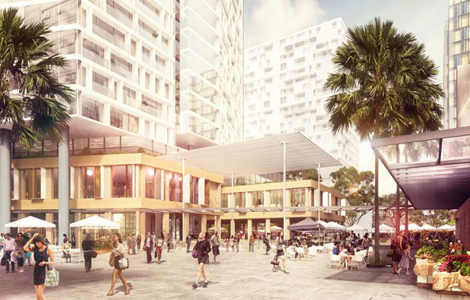 Burwood in New South Wales is in for a complete makeover.
It's getting a permanent hawker market, an alley of tiny restaurants, two new food courts and possibly even a new yum cha restaurant.
The big improvements are going on at the Burwood Hotel that will see the entire block around the pub transforming into a late-night food precinct by January 2018.
The plan is to turn the area into something you would find in Hong Kong or Singapore with all the activity spilling out into every street and alley.
David Whitfield, operations manager at Blairgrove Group, the company behind the new food precinct, says one example is the plaza across the road from the Burwood Hotel.
"A 49-storey building is going there. Everyone's going to need somewhere to go and there's nothing in the area [open late at night]," Whitfield told Broadsheet. "If you drive around here tonight the only food you'll be able to find is McDonald's."
The first bit of work was the hotel.
"We saw what was happening in Burwood, the amount of developments and DAs going on," Whitfield said. "The amount of buildings going up will be crazy."
With the hotel getting a modern-Asian kitchen, a lounge and a cocktail bar, the next bit of work will be modernising the block.
This will see the arcade a few doors up from the hotel being turned into a bustling Chinatown-like food alley. A permanent street-food market will be located behind it and above it, a new restaurant or multiple restaurants.
The car park behind the hotel will be transformed into another market, maybe even a food court. The alley on Clarendon Place will be renamed Lotus Lane and will have small restaurants, mainly doing take away.
"I can't say what's going in or not but we've had interest in making the whole thing a yum cha, or we could do what we do downstairs and we'll do a food court," Whitfield said.
by Leon Gettler, June 15th 2017