King Island Dairy introduces its first new cheeses in 7 years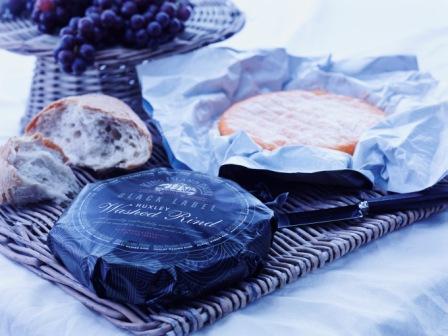 Australia's premium handcrafted dairy producer, King Island Dairy, has released two new cheeses: the 'Furneaux' Double Cream, a soft centred white mould cheese and the Black Label 'Huxley' Washed Rind, a semi-soft cheese.
With Australians now seeking out locally produced, quality goods, it's King Island's unique environment, or 'terroir', off the Tasmanian Coast that provides the ingredients for uncompromisingly indulgent, speciality cheeses for our increasingly sophisticated palate.
The Furneaux Double Cream has a luxuriously soft and oozy texture balanced by an earthy white rind, which softens and crumples with maturity, revealing a lustrous, pale cream centre reminiscent of whipped butter when fully ripe.
"The sweet centre of the Furneaux Double Cream can be attributed to the lush pastures on which our dairy cows graze," commented King Island Dairy's head cheesemaker Ueli Berger.
"We know that people link quality to location, and that's exactly what King Island provides. It will easily rival its European counterparts," he added.
By contrast, the mellow Huxley Washed Rind has a smooth centre and a sweet, earthy flavour.  Made without mould, the distinctive flavour and striking orange coloured rind come from the blend of selected cultures that are cloth washed over the cheese by hand during maturation.
As the latest addition to the Black Label artisan range of cheeses from King Island Dairy, the Huxley is an example of the trend amongst Australians to enjoy affordable luxury, whether entertaining at home or dining out.
"Five years ago, the Huxley Washed Rind would have been considered a niche product as washed rind cheeses didn't enjoy the popularity they do today," said Renee Tsironis, Senior Brand Manager, King Island Dairy.
"But today's Australian consumers are choosing premium products with a genuine 'pasture to plate' story.
"They're seeking impressive new flavours and textures to put on their cheese platters so we're confident that both the Huxley Washed Rind and Furneaux Double Cream will really lift the bar for Australian cheeses," she concluded.
Furneaux Double Cream is available in delicatessens and the deli section of most major supermarkets and is expected to retail for approximately $60/Kg (price may vary by individual store or delicatessen).
Huxley Washed Rind is available exclusively through wholesale and high end delicatessens, including Thomas Dux, and is expected to retail for approximately $60/Kg (price may vary by individual store or delicatessen).
Furneaux Double Cream Tasting Notes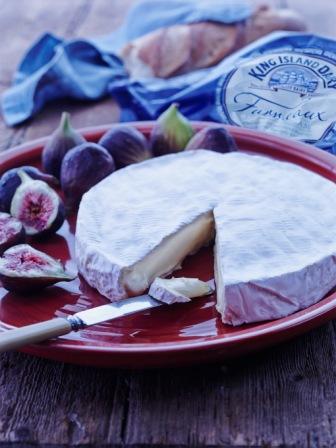 The Furneaux Double Cream has the delicate aroma of jersey milk and fresh hay with a rich, melting quality and concentrated, sweet butter flavour.
Made with King Island's rich, creamy milk, its ultra-smooth texture is achieved using special techniques developed by our King Island Dairy cheesemakers.  After being hooped, the cheese rounds are hand salted and then checked and turned every second day for two weeks before being wrapped and matured for a further three weeks on King Island.
The Furneaux Double Cream can be served alongside almond or fruit bread, crisp breads and crackers, fruit pastes, grapes, figs, fresh or poached pears, muscatels, hazelnuts and walnuts. 
It can also be enjoyed accompanied by sparkling white wine, Chardonnay, Semillon, Liqueur Muscat, Liqueur Tokay, Vintage or Tawny Port.
The Furneaux Double Cream is named after the pioneering captain of HMS Adventure, Commander Tobias Furneaux, who circumnavigated Tasmania in 1773.
Huxley Washed Rind Tasting Notes
The Huxley Washed Rind is a subtle, fully washed rind cheese, with a shiny cream centre and balanced flavour.
Delicious on its own, a slice of Huxley Washed Rind may also be accompanied by pickles, gherkins and cornichons, the piquancy of which offset the sweetness of the cheese. Its earthy creaminess complements beef fillet, kangaroo and venison, bacon and smoked meats, while it pairs well with sourdough bread, hazelnuts and dates.
Pinot Noir, dessert wines and beer are the ideal drinks to serve alongside the Huxley Washed Rind, which is named after Huxley Hill, the site of Tasmania's first wind farm and representative of the island's sustainable lifestyle.