Vitasoy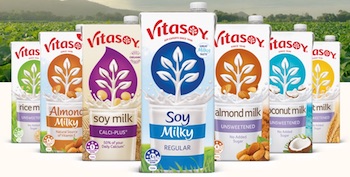 Vitasoy is one of Australia's leading plant milk companies and proudly uses only whole Australian-grown soybeans to make its soymilk. Vitasoy has over 70 years' experience in making soy milks and Vitasoy Australia built their first state of the art production facility in 2001. That is why we consider ourselves to be The Soy Experts. Vitasoy's plant milk range also includes almond milk, coconut milk, ricemilk and oatmilk, so you can enjoy a diverse range of delicious dairy milk alternatives, brought to you by Vitasoy.
Vitasoy's Café for Baristas range has been crafted specifically for baristas, so you can create the great-tasting coffee with Vitasoy's Café for Baristas soymilk and now also with Vitasoy's new Café for Baristas almond milk. We don't add preservatives, we don't use genetically modified ingredients and we don't import soy or almond substitutes from overseas.
To find out about the whole story go to www.vitasoy.com.au, or visit www.vitasoy.com.au/products for more product information and a range of healthy recipes.
---

The Vitasoy range caters to multiple needs, with products such as:
Vitasoy Organic Bean Soymilk Original
Vitasoy Organic Bean Soymilk Calci-plus
Vitasoy Organic Bean Soymilk Reduced Fat
Vitasoy Soy Milky Lite
Vitasoy Soy Milky Regular
Vitasoy Soy Milky Chocolate
Vitasoy Soy Milky Iced Chocolate
Vitasoy Soy Milky Vanilla (NZ only)
Vitasoy Almond milk Original
Vitasoy Almond milk Unsweetened
Vitasoy Coconut milk Original
Vitasoy Coconut milk Unsweetened
Vitasoy Ricemilk Original
Vitasoy Ricemilk Enriched
Vitasoy Oatmilk Original
Vitasoy Oatmilk Bone Essentials
Vitasoy Café for Baristas soymilk (trade only)
Vitasoy Café for Baristas almond milk (trade only)


---