Dairy & Drinks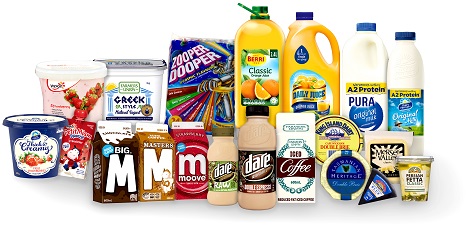 Lion's dairy & drinks portfolio includes market leading brands across the milk, juice, cheese, dairy products and soy categories, and four out of the top 25 grocery brands in Australia – including Berri (8), Dairy Farmers (21), COON (22) and PURA (25) [Nielsen Top 100 Brands, February 2010].
Milk
We produce a range of full cream, flavoured and modified fresh and UHT milks, with popular brand names such as PURA, Dairy Farmers, Farmers Union, Dare, Big M, Moove and Masters M.
Dairy Products
Our range of yoghurts, fromage frais, dairy desserts and cream lead the fresh dairy foods category, with brands including Yoplait, Fruche, Thick and Creamy, YoGo and Divine Classic. 
Juice
Berri, Daily Juice, Just Juice and Australian Grown are just a few of our core juice brands consumers enjoy every day. 
Cheese
COON, King Island Dairy, Tasmanian Heritage and Mersey Valley are just some of our popular block and specialty cheeses you know and love. 
Soy Beverages
We are also prominent in the soy beverage market, producing and marketing the Vitasoy range under a joint venture with Vitasoy International Holdings Ltd. Our Vitasoy brand has been one of Australia and New Zealand's favourite soy brands for almost 10 years.