Environmental Choice by Jasol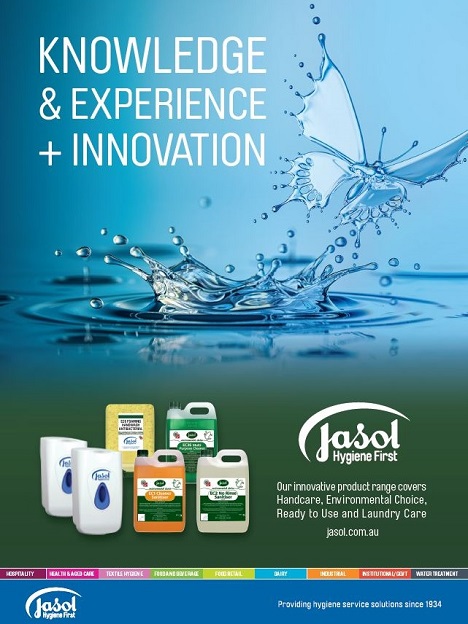 It's easy to make a sustainable choice for the environment with Jasol.
Jasol's EC range of cleaning and sanitising products makes it easy to be environmentally responsible. They're made almost entirely from renewable plant resources rather than oil-based ingredients. They're non-caustic, readily biodegradable and are certified by GECA (Good Environmental Choice Australia). This sustainable, comprehensive range is the smart environmental choice for all your cleaning needs.
View Environmental Choice Product range below:
---
EC0 Manual Dishwashing Up Detergent

EC1 Cleaner Sanitiser

 

EC2 No Rinse Sanitiser 

 

A highly effective dish washing detergent that cuts through the toughest of grease and food soils in both soft and hard water.



An Environmentally responsible and very convenient all in one cleaner and sanitiser that is highly effective in both soft and hard water.

EC2 is chlorine free making it the perfect high performance sanitiser for all food contact surfaces and equipment.



EC3 Floor Cleaner Degreaser

An ideal cleaner for removing the toughest fat, grease and soils, even in hard or soft water conditions. Is Non flammable, phosphate free and made from renewable plant resources.

EC4 Glass Cleaner

An environmentally responsible and superior strength window, glass and chrome cleaner that leaves surfaces with a sparkling streak free shine. EC4 utilises an ammonia-free formula.



EC6 Foaming Handwash Antibacterial

Environmentally responsible and fragrance free foaming antibacterial hand wash. Tough on germs but soft on your hands.



 

EC11 Toilet Bowl Cleaner

A convenient dual action toilet bowl cleaner and deodoriser. With powerful cleaning properties, it is perfect for removing soil, scale, rust and uric acid from your toilet bowl whilst leaving behind a pleasant citrus fragrance.

 

EC12 Powder Manual Dose Warewashing Detergent

Utilising its low foaming and aggressive soil attacking formula. It removes the most stubborn grease and grime from your crockery and glassware leaving them sparkling clean and streak free even in toughest washing conditions.

EC13 Automatic Feed Warewashing Detergent

A superior strength automatic dishwashing machine liquid. With its low foaming rinse free formula EC13 cuts through the toughest of soils in all water conditions, leaving your crockery and cutlery sparkling clean.

 

EC14 Automatic Feed Warewashing Rinse Aid

An Environmentally responsible and highly effective rinse additive for use in automatic dishwashers. It promotes free rinsing, sparkling crockery and cutlery and prevents water spotting and streaking. Coupled with the use of hot water ensure very fast drying times.

EC16 Crockery & Cutlery Soaker

A highly effective cutler and crockery pre-soak. Utilising a power enzyme formula EC16 breaks down the toughest food soils and removes stubborn stains such as coffee and tea stains. When used as directed, is safe for stainless steel surfaces as well as for plastics and china.

EC17 RTU/Non Caustic Oven Cleaner

A Non corrosive, non caustic over cleaner that is ideal for the daily removal of fats, greases and oily/residues from ovens, hot plates, range hoods and deep fryers. Unlike other caustic cleaners EC17 is also safe to use on modern convection ovens and rotisseries.

EC24 Instant Hand Sanitiser

The ideal product for use in food processing areas. Designed to be used after washingyour hands, EC24 utilises high performance sanitising agents that are tough on germs, eliminating 99.9% of bacteria but soft on your hand. Sanitising power is long lasting and can still be effective up to 8 hours after applying

EC25 Cream Cleanser

Multi purpose cream cleanser for general cleaning in kitchens, bathrooms and all house keeping areas. Mildly gritty texture and a fresh, long lasting lemon perfume EC25 is designed to be used on most surfaces leaving them spotlessly clean and and smelling lemony fresh.

 

EC36 Multi Purpose Cleaner

An effective multi purpose cleaner and degreaser with a fresh lemon fragrance. Utilising a phosphate free formula, it's non flammable and mixes easily with water making it economical and an effective cleaning solution for removing grease and built up scum on floors and walls.

 

 
 

EC38 Neutral Floor Cleaner

A highly effective multi purpose neutral floor cleaner that is ideal for most floor types including vinyl, linoleum, timber, rubber and tiles. With it superior strength formula, it will take on the toughest of floors, leaving them spotlessly clean and smelling lemony fresh.