St Kilda Icon Performs with Custom Portable Stage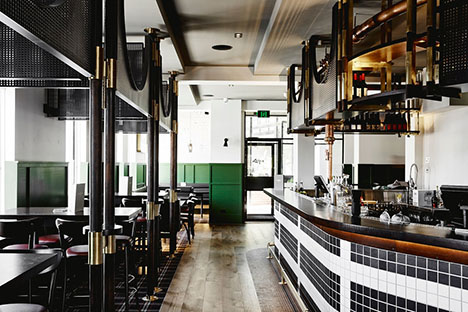 Entertainment and customer satisfaction needs have changed in the years since The Village Belle Hotel was built in 1891 to service Melbourne's popular bayside suburb of St Kilda. 
Late 2017, the enterprising owners of this iconic heritage-listed hotel undertook a major refurbishment to maximise the desirability of the beautiful location - and to provide patrons with multiple choices to wine, dine and be entertained. The heritage hotel is now a "sleek, contemporary, double-story venue", a credit to the vision of the owners.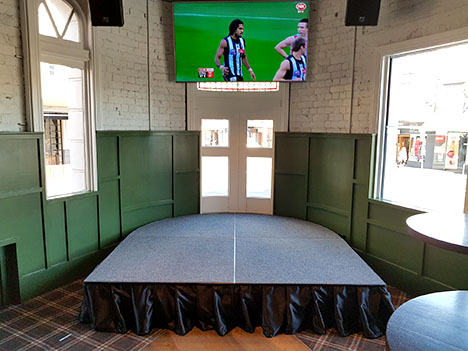 Select Concepts was commissioned to design, manufacture and install a unique custom shaped Portable Stage to fit the small rounded corner to the street accessed Public Bar. Our elegant design is perfect for small musical acts and allows easy access for speakers and sound equipment to be stacked either side of the Stage podiums.
As the Village Belle Hotel Public Bar is one of St Kilda's popular live music venues, plus presents in-house activities to coincide with multiple sports events, they required a versatile Stage System to fit both space and usage needs. Select Concepts custom-designed and manufactured a 2.4m x 2.4m @ 400mm high portable QUATTRO Stage to fit within the unique curved front corner. It is finished with a marine grade carpet floor and a black valance curtain.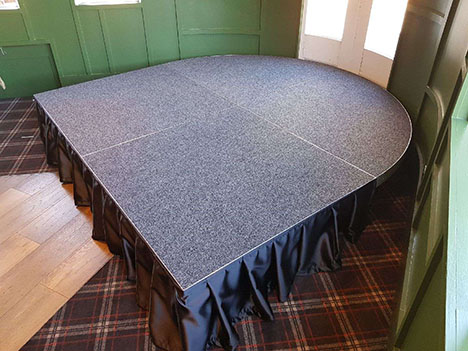 The Village Belle Hotel is an excellent case in point – you do not have to make do with the standardised premade "cookie cutter" imported stages – ask and you too can have a bespoke Stage to fulfil your space, size, height and special finishes event requirements.
Improve your event spaces with an Australian Made Stage System from Select Concepts – just ask us how.
11th October 2018