Tableware from PremierNorthpak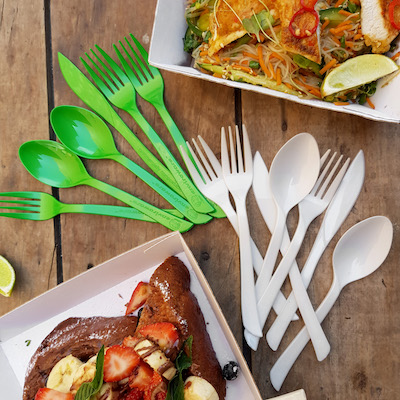 A wide variety of tableware and servingware for both functional as well as decorative purposes. Our cutlery selection features a variety of materials and styles, including bamboo, pine wood, enviro plastic (CPLA), polypropylene and silver look, plenty to choose from to tailor to your requirements. For takeaway and food delivery, try our economy and premium cutlery packs. To dress up a table setting, servery or banquet, we have a range of doyleys, placemats and table covers. We also have serving essentials including toothpicks, skewers, plates, bowls and refresher towelettes. Our paper napkin range features dispenser, cocktail, lunch, dinner, quilted napkins and the very popular cutlery pouch and pochetta series.
Enviro Plastic Fork GREEN - Enviroware
This contemporary and elegantly designed cutlery range is also durable and solid in its construction. Perfect for cold and hot foods, with excellent heat resistance. Compostable and biodegradable made from environmentally friendly CPLA.
Wooden Forks - One Tree
Made from plantation birch. these eco-friendly disposable cutlery are biodegradable. They're attractive and provide an enhanced eating experience.
Pochetta BROWN Kraft with Napkin, Wooden Fork & Knife
An attractive cutlery pouch which is also convenient and hygienic. The fork, knife and napkin are inserted in the pouch and protected from contamination and unnecessary handling, reassuring patrons during their dining experience. Every component of these eco-friendly disposable cutlery packs are 100% biodegradable.
11X9" Oval Plastic Plate BLACK - Genfac
High quality plates are durable and economical. Suitable for many different occassions.
18th September 2018