Café for Baristas Almond Milk - New and improved recipe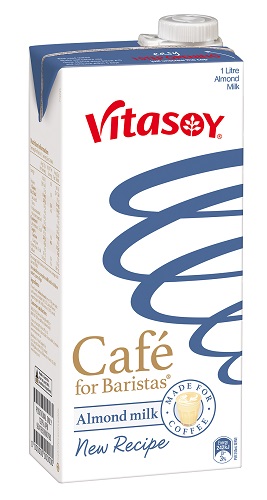 Vitasoy Café for Baristas Almond Milk is made in Australia with Australian grown almonds proudly supporting Aussie farmers and developed to froth perfectly with your coffee.




Vitasoy Café for Baristas almond milk has been specifically formulated for your barista-made coffee. All of the Almonds that we source are high quality Australia-grown whole almonds. The result is an almond milk coffee that your customers will return for every time.

Grown by Aussie Farmers
Our whole almonds are harvested from February to April and delivered to our Wodonga Factory. Only the best almonds make it...



Blended by us
We soak our almonds until they're ready to be ground, and then blend the good bits with filtered water and other ingredients such as sugar and salt.
Enjoyed by you
In your coffee, your chai tea, your smoothie or with your breakfast.
Statistics:
Almond Milk share of coffees has doubled since June 2016, from 1.9% to 3.9%*

Almond's share of plant milk in coffees is 26%
Product benefits:
Non-genetically modified ingredients

Suitable for vegans and vegetarians

Low in sugar

Less than 2% fat
For more information or to place an order please contact your local distributor or our Lion customer service team or click here to go to the website.
Australia: 1800 000 570
New Zealand: 0800 730 732
*Data provided by food and drink ordering app Skip - skip.com.au, metro areas, n=10,000 June 2017.
14 August 2018