Hank's Chutneys and Relishes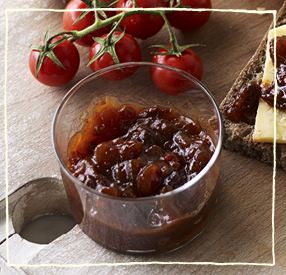 Short on time but looking to add a real flavour boost to a meal? Hank's Chutneys may well become your 'secret weapon'! Packed with real spices and Australian produce, Hank's chutneys are made to our original, authentic recipes which have been developed over time with care and love.
Next time the BBQ is fired up make sure there's plenty of Hank's Onion Marmalade on hand. You can spark up a sandwich with some of Hank's Ploughman's Chutney and even the simplest 'wine-o'clock' favourite cheddar and bikkies shines with a generous smear of spicy Hank's Chilli Jam.


View our range of chutneys and relishes below:


Apple, Rosemary and Mint

Made with apple, rosemary and mint, the perfect accompaniment to any lamb dish whether it's straight out of the oven or fresh off the barbie. It doesn't come much better than this.

 
---
 

Chilli Jam

When is a jam not a jam? When it's this rich chilli and sultana based condiment, with just enough heat to fire you up but gentle enough not to overpower.
---
Cranberry and Orange

Not just for Chrissy, this scrummy cranberry and orange relish accompanies all the best dressed turkeys (and chickens) in town. Perfect on the side, in a sandwich or wrap.

 
---
 

Mango and Kaffir Lime

This great blend of totally tropical tastes sits rather comfortably alongside spiced meats and curries. It works those spices and brings out the flavours in a zest-fest you won't easily forget.
---
Onion Marmalade

Nothing to make your eyes water here. This rich, chunky chutney is the bomb served with beef and all things bbq'd.

 
---
 

Ploughman's Chutney

We're not going to lie, this chutney is a cracker with cheese. Everything you would expect from a traditional ploughman's but with a shake of Hank's magic to make it stand head and shoulders above the rest.
---
Sour Cherry, Seeded Mustard and Ginger

Your ham sandwich will never taste the same again once you've tried this delectable fusion of sour cherry, seeded mustard and ginger. Spread it on nice and thick!

 
---
 

Tomato Chutney

Rich and robust, this tomato chutney is a meat lover's best friend. More than a relish, this beauty holds its own, bringing out the flavours of any cooked meat.
---

Visit www.hanksfood.com for more information


---
October 12th 2017