Why Choose Elgas for your cooking and hot water needs?

Elgas makes it easy... so you can focus on your guests.
No manual handling

Elgas manage stock so you so you don't have to worry

Pay only for the LPG you use

It's like having reticulated gas without the line connection costs

Easy & convenient

Elgas experts can tailor a usage plan to help reduce consumption and running costs.

An energy partner you can rely on.
Elgas has a strong commitment to safety and customer support. Wherever you are, there's a local Elgas representative near you to provide technical know-how, staff training and personal service. We even have a 24-hour hotline should you need us after hours or in an emergency.


Keep your guests happy with continuous flow hot water from Elgas!
Delivers constant supply of on-demand hot water

No need for storage tanks

Can be mounted internally or outdoors

Ideally suited for heavy use applications

Ideal for large quantities of hot water over a short time period

Programmed temperature control for maximum safety for your guests
 

The right hot water system to suit your needs.
Some of the benefits include:
Never have customer complaints about the lack of hot water

LPG hot water systems are quiet. They won't keep your guests awake at night.

No worries about peak and off peak rates with LPG

No pumps and motors that can break down and require servicing, as is the problem with heat pumps

Even multiple units take up little space and are typically mounted outdoors to save valuable interior space


Why do so many chefs choose to cook with and use LPG gas?
Far more responsive

Flexibility for a wide range of cooking methods

Ideal for heating your restaurant inside and out.

Cost effective solution





Click image below to view brochure: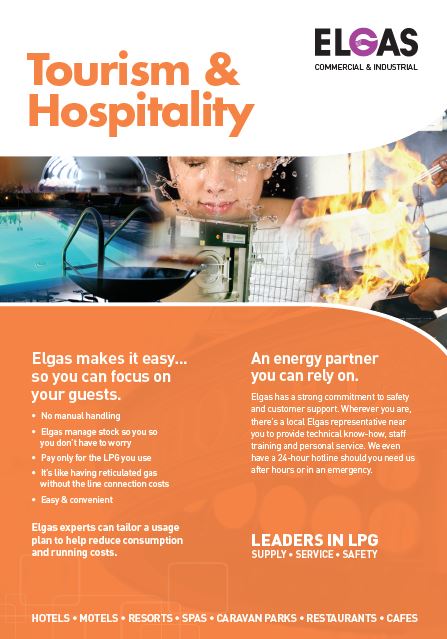 ---
For more information visit www.elgas.com.au or call 131 161
---
February 13th 2018.