Chicken Nugget Tacos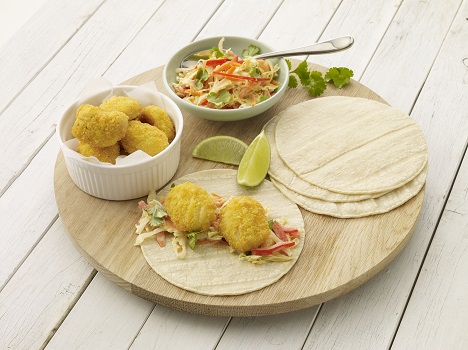 Option to serve with Corn or Flour Tortillas
Serves: 2

INGREDIENTS:

 
4 x 6" Mission CornTortillas, heated

Lime dressing:
2 tbsp mayonnaise

1 tsp lime juice

freshly ground pepper and salt, to taste

LettuceSlaw:
2 cups finely shredded Iceberg lettuce leaves

¼ cup grated carrot

½ red capsicum, finely sliced

¼ cup fresh coriander leaves

2 tbsp lime dressing or Coleslaw Dressing

8 chicken nuggets, oven cooked as per packet instruction
Method:


 

Combine dressing ingredients and season to taste.



 

Prepare lettuce slaw by combining ingredients in a bowl with the lime dressing.



 

Heat tortillas according to instructions on pack.



 

Arrange lettuce slaw along the centre of 4

Mission Corn Tortillas. Top each with 2 cooked chicken nuggets and sprinkle with a few extra coriander leaves.



 

Fold filled tortillas in half and serve immediately.


August 23rd 2016