How to make Gluten-Free Charred Calamari Tacos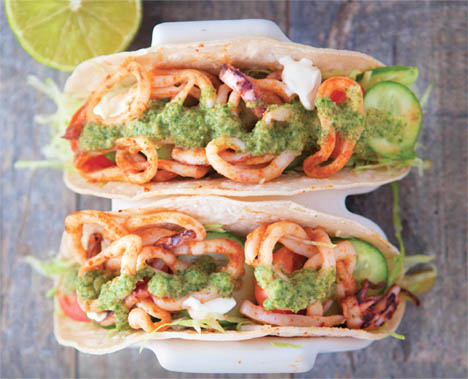 INGREDIENTS (Serves 6)

6 Mission White Corn Tortillas

4 small whole calamari, cleaned, tentacles cut in half and the hood cut into rounds

2 tbs jalapeno in brine + 1 tsp. of 

the brine

2 tbs olive oil + 1/4 cup olive oil

1/4 Iceberg lettuce, finely shredded

1/2 bunch of coriander, washed and roughly chopped

1/2 punnet of cherry tomatoes, halved
---
INSTRUCTIONS


Combine the calamari, paprika, 2 tbs oil and salt, and mix well with your 

hands. Marinate for 10 minutes.



In a small food processor add the remaining oil, coriander, jalapeno and the 

brine, juice of the lime and the brown sugar. Blitz until a smooth sauce 

consistency forms.



Heat a bbq or 2 grill pans over a high heat. Grill the calamari for 1 minute 

until it is charred all over and remove from the pan.



Turn stove to medium heat and warm pan. Lightly sprinkle water on both sides 

of the tortilla. Place tortilla on dry frying pan for 10 seconds on each side. 

Repeat for the remaining tortillas.



Spoon a dollop of sour cream in the centre of the tortillas and then add the 

lettuce, a few tomato halves, followed by the calamari. Drizzle the sauce over 

the top.
---
Download the recipe here: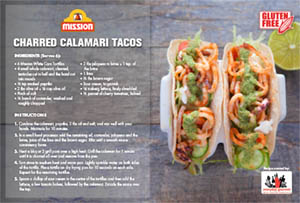 28th July 2016