Environmental Choice by Jasol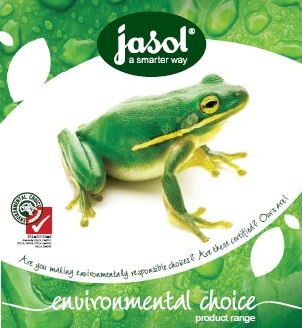 Jasol is proud to introduce the new Environmental Choice (EC) range of highly effective, yet environmentally responsible, cleaning and sanitising products.  
The Products are: 
Made almost entirely from renewable plant resources;
(rather than oil-based ingredients)
Readily biodegradable;
High performance, yet cost effective


Certified by GECA (Good Environmental Choice Australia), the premier mark of environmental performance for products and services in Australia.
---
EC0 Manual Dishwashing Up Detergent

EC1 Cleaner Sanitiser

 

EC2 No Rinse Sanitiser 

 

A highly effective dish washing detergent that cuts through the toughest of grease and food soils in both soft and hard water.



An Environmentally responsible and very convenient all in one cleaner and sanitiser that is highly effective in both soft and hard water.

EC2 is chlorine free making it the perfect high performance sanitiser for all food contact surfaces and equipment.



EC3 Floor Cleaner Degreaser

An ideal cleaner for removing the toughest fat, grease and soils, even in hard or soft water conditions. Is Non flammable, phosphate free and made from renewable plant resources.

EC4 Glass Cleaner

An environmentally responsible and superior strength window, glass and chrome cleaner that leaves surfaces with a sparkling streak free shine. EC4 utilises an ammonia-free formula.



EC6 Foaming Handwash Antibacterial

Environmentally responsible and fragrance free foaming antibacterial hand wash. Tough on germs but soft on your hands.



 
Click here to view the complete Environmental Choice range from Jasol
October 6th 2016