Mandarin Oriental Hotel target Sydney
Hong Kong's Mandarin Oriental Hotel Group is looking for a spectacular site in Sydney.
Having bedded down a Zaha Hadid-designed tower for Melbourne's Collins Street, it's on the hunt for something in the Harbour City.
"Mandarin Oriental wants Sydney — we have been looking in Sydney for ages," Mandarin Oriental's Hong Kong-based director, Sally De Souza, told The Australian.
"We are always still looking. Our chief executive officer, James Riley, is very keen on development,"
"We think there is a lot of room for growth."
Mandarin Oriental has 31 hotels operating around the world. It is also looking for properties in Japan and Italy.
Mandarin Oriental has taken the management rights to two existing properties in Santiago, and Canouan in the Caribbean.
And it is planning more projects. Its first hotel in Beijing will open later this year, and in the first quarter of next year it will open its first Middle East project at Jumeirah. A property in Doha will open next year. Mandarin hopes to open in Hawaii within five years.
And then there is Melbourne, where a series of residential residences will be attached to the hotel.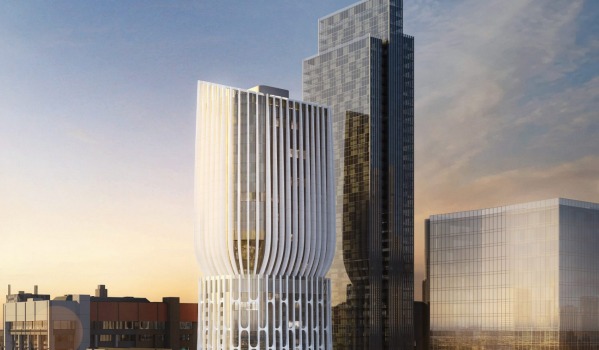 Artist Impression:  Mandarin Oriental Hotel Melbourne
The Melbourne site is scheduled to open in 2023 and it is just one on the list of 10 projects announced by the group recently.
The Mandarin Oriental's Melbourne offering has already gone through some changes.
Mandarin Oriental's executives decided the hotel room heights too low. As a result, there was a quick interior redesign leading to the loss of a couple of rooms.
The Melbourne site is a 196-key hotel. It is part of a 50-level property wrapped in white latticework that was designed by the late Hadid, who died in 2016.
But according to global hotel data company STR, room rates are not growing in Melbourne with demand outpacing supply last month and the city reporting its second month of year-on-year declines in average daily rates and revenues per available room.
12th July 2018