Four in Hand to offer basic pub fare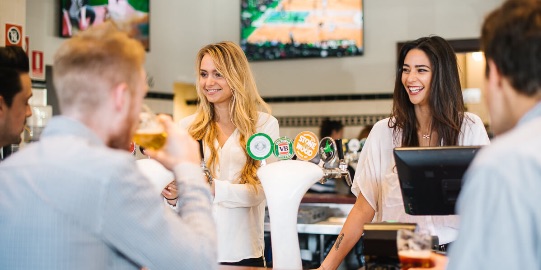 "People power" has saved Paddington's Four in Hand pub from developers.
But there won't be a massive make-over.
New owner John Azar of the Good Beer Company, which owns the Keg & Brew in Surry Hills and The Dog Hotel in Randwick, is promising "a pub for all people".
Azar paid $7 million after Prime Media chairman John Hartigan and former New York Post editor-in-chief Col Allan were among the more than 10,000 who signed a petition to keep the Four in Hand a hotel.
There will be no fancy and expensive food on offer.
"There'll be no elitist stuff … just the one menu for the entire hotel and it will be traditional pub food of a high quality," Mr Azar told the Daily Telegraph.
Diners, he said, can expect food "with a twist".
"For example, schnitzel on a plate, dressed up with parmesan and a wedge of lemon," he told the Daily Telegraph.
He will be getting rid of the makeover completed by designer Amandine Odouard at great expense, which added imported European light fittings.
"I wouldn't call it a reno," Mr Azar told the Daily Telegraph.
"It will be simple stuff, more a reorganisation.
"We'll be walking in, giving it a lick of paint, some new lighting and stuff on the walls — the whole lot done overnight, as soon as we take over."
He aims to "create more atmosphere, give it some of its soul back".
"It's likely to have a sporting theme: cricket, rugby and AFL," he told the newspaper
"We're just up the road from some of the best sporting grounds in the country and it's always had a big sporting following," he told the paper/
"But it's set to be a pub for all people … great value with daily specials, like we do in our other venues.
"We want to break down barriers — no more fine dining and bar food — just one pub for everyone to enjoy."
11th July 2018