John Singelton's new restaurant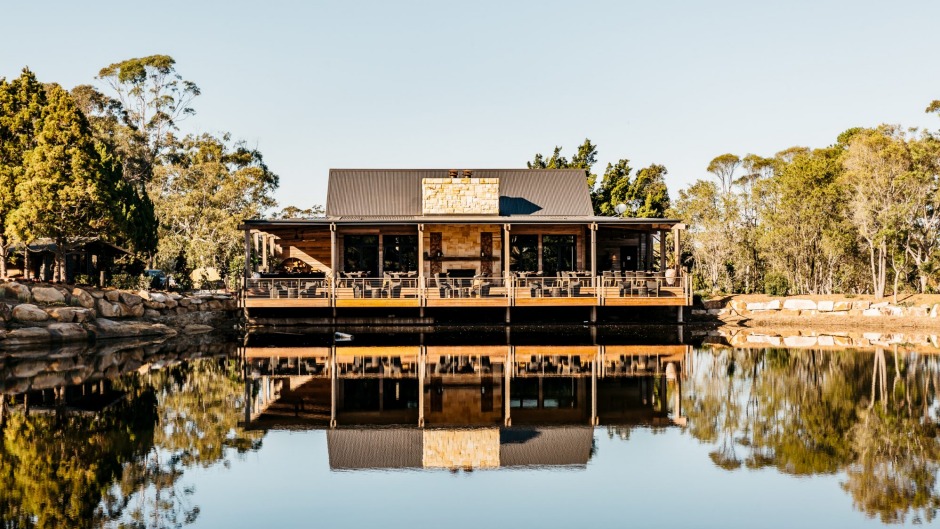 John Singleton is behind a team that has set up a new rustic bakehouse, Saddles,  located at Mount White,  sitting on 11 hectares of bushland just north of Brooklyn.
Singo's latest venture comes after the $15 million sale of his Icebergs restaurant in Bondi.
Saddles sits near a private dam. It has a sandstone fireplace, wrap-around verandah and pianola.
The restaurant has a casual bakery combined with formal dining.
The menu offers a seasonal lunch and Friday dinner menu alongside house-made sourdough, tarts and pies.
It has been set up as a luxe homestead selling the country experience for daytrippers heading north.
A painting of an old shed by a friend from Singo's advertising days now hangs above the fireplace and the 120 seat restaurant incorporates marble, hard woods, French doors and a brass-scalloped bar.
Artisan saddler and stuntman Heath Harris, who worked with Singleton at his nearby Strawberry Hills Stud, has provided the saddle chairs. The chairs appeared in the famous hill scene from The Man from Snowy River.
Saddles is run by restaurateurs Cameron and Hayley Cansdell.
They had been at Bombini and Bombini Pizza at Avoca Beach and Fish Dining at Point Frederick, and they had worked with The John Singleton Group and White Dickson Architects to create this ambitious project.
Cameron is the executive chef and he has put together a menu that features whole flathead, free-range roast chicken, sheep's curd tarts and fried lambs' brains, along with sweet and savoury pastries and pies made with grass-fed beef cheeks and wine, pork and fennel sausage rolls; and lamingtons made from Valrhona chocolate and raspberry cream.
All made from native ingredients like finger limes, lemon myrtle and Davidson plums.
And the wine list offers 20 different wines, all of them Australian.
"I wanted the menu to feel like you're going to the country," Cameron told Good Food. "I wanted it to feel wholesome, simple and elegant and I wanted the food to be comforting and clean."
Leon Getler 12th June 2018.